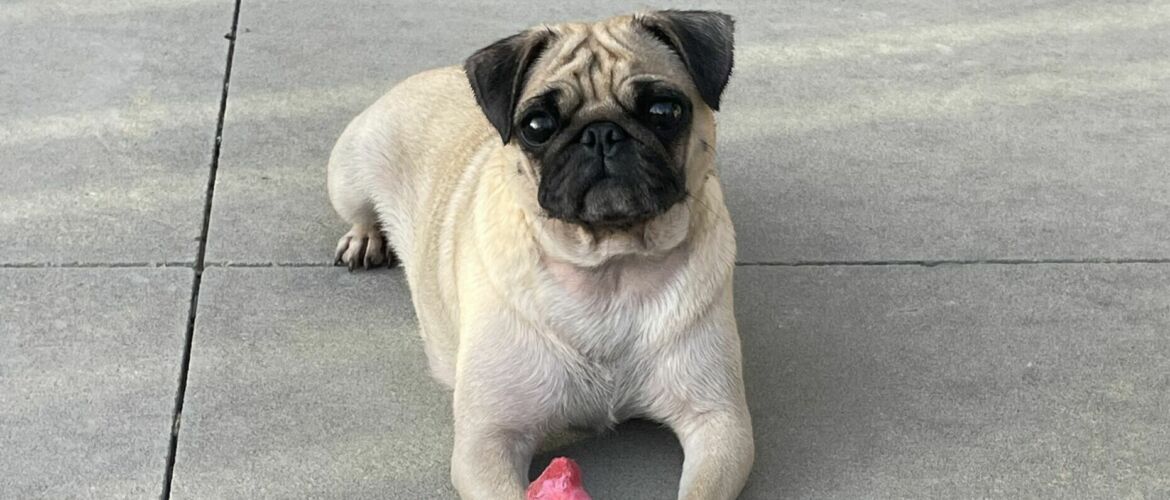 Hallie-Adopted
PLEASE NOTE: All of our adoptable dogs are NOT adopted on a first come, first serve basis. We match the right pug with the right family. Please read the entire bio and details below before emailing. Failure to read all may result in no response or denial. The requirements for each dog are NOT negotiable so please do not ask.
Name: Hallie
Age: 3 yrs old
Sex: Female
Previous Life: Breeder Release
Weight: 14 lbs
Altered: Yes
Housebroken: Working on it! A bit of a delay due to a UTI.
Good with dogs/cats/kids: Yes/Yes, another dog is preferred/Yes – Hallie currently has zero manners or sense of personal space though.
Likes: LOVES Nylabones, small stuffies, and fake antlers. Whimzees are delicious and she takes her sweet time eating them. Deli turkey is tasty, but it doesn't fool her into taking her pills!! She will pick up big stick in the backyard and carry them/chomp on them as she pleases. Rope toys are also pretty cool.
Dislikes: She goes flat to the ground if you reach for her too quickly or startle her with sudden movements and may bark.
Crate trained: Yes. She will bark if she hears anything going on in the house, but otherwise does fine.
Fenced yard required: Yes. A fenced yard is required.
Special Needs/Notes: Eye lubricant required
Hallie is finally figuring out what pet life is all about. From day one she figured out that she should potty outside, but she's still working on not pottying inside. She is all go, go, go for several hours at a time, but then will pass out, preferably on top of one of her foster sisters. Hallie is fantastic with kids, though she is still learning to stay down. She has spent several weeks in a temporary foster home with a toddler and they became best friends chasing each other around. She's obsessed with every canine friend and will show her love for them by sticking her face in their bellies repeatedly, licking them, climbing them, and snuggling with them. She doesn't care about the resident cat and would do fine with one in the home. Every single toy is a fun toy, but especially Nylabones, small stuffies, and toys with rope AND stuffy all rolled into one. Hallie does fine in a crate when her foster family is gone and overnight, but will bark if she heard any humans or pups making a ruckus in the house while she's in her crate. She wants to be where the party is!! Occasionally, she will still startle and in those instances she either pancakes to the ground (such as when you reach for her suddenly) or she will bark the song of her people to let her displeasure be known. Hallie is making strides every single day and is truly the happiest little pug. She's looking for a patient family who can continue work with her on her potty training, provide MANY toys for her to hoard in various dog beds, and someone who wants her with her most of the time that they're home. A high energy big or small human is a plus and another furry friend is a MUST to remind her how to dog. She has been around big and small dogs with no issues other than a few of the older pups not being a fan of her high energy, in-your-face ways. Hallie will thrive where there's a fenced in yard with plenty of room for her to romp. She can't wait to meet you!
Due to the high frequency of applicants NOT ALL pre-screening emails will be responded to. PPN does not allow pugs to be shipped as cargo. For approved out of state adoptions requiring airfare the pug must fit in an airline approved sized carrier able to fit under the seat. Out of state adopters must arrange for transport and in some cases we may have volunteers able to help.
Interested in adopting? Email our adoption coordinator kristi@pugpartners.com and let her know why you think your home is a perfect match!
Hallie's minimum adoption donation is $350.