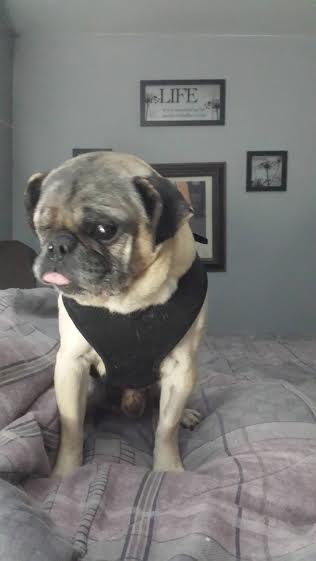 Name:  Huggy
Age:  8
Previous Life:  Breeder Auction
Sex:  M
Weight:  Unknown
Altered:  Yes
Housebroken:  Yes, but I'm still working on it!
Good with dogs/cats/kids:  Yes/Unknown/Unknown
Likes:  Sleeping with my foster parents and not living in a wire cage
Dislikes:  Sudden movements are a little scary for me right now. I lived in a  puppy mill for 8 years so I'm learning what life is really about.  I also have depth perception issues and only one eye.
Crate trained:  Yes
Hi, Huggy here again. My foster mommy is finally starting to figure me out a little bit, she says I am a little harder to figure out but she said she loves a challenge.
My mommy doesn't make me wear my belly band and I love that about her. I only had one accident and she didn't get mad at me she is helping me to understand where I potty at.
I do like my two foster brothers but sometimes I get mad at my foster brother Crash. He jumps up by me when I am laying with my foster mommy and he startles me, so I growl and nip at him. My foster mommy reassures me that I'm ok. I do however need to learn to share my foster people. I also don't like when my foster brothers come around my food or when I'm eating. I get really mad then. My mommy just feeds me when they aren't around and that works out a lot better.
Sometimes my foster daddy goes to pet me without saying anything and that kind of scares me because I can't see his hand sometimes but if you talk to me before petting me I don't get scared. I am still having a lot of depth perception issues with only having one eye. So I won't get go down little steps or anything quite yet. My foster mommy and daddy are working on that with me. I do good outside on a leash as long as I can be right next to my foster people where I can see them, otherwise I stop and won't move because I'm scared. My mommy goes a little farther than I like sometimes but she calls me until I go to the sound of her voice, I think she is trying to help me be brave.
I really like my new life out of a cage and I even get to sleep in bed with my foster people and I don't have accidents. I do go in my kennel though when my foster people work and i am ok with that as long as I get out when they come home. My foster mommy says she doesn't know about how I would be around cats or kids. I think I would be ok around kids if they didn't startle me, so maybe not smaller kids. More from me later I think it is nap time with my foster brother Crash.
Interested in adopting Huggy? Please see our website and fill out an application at: www.pugpartners.com/adoption-application Huggy'sminimum adoption donation is $275.