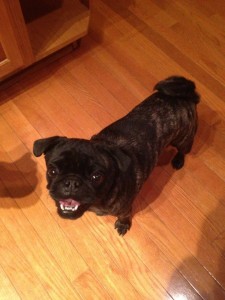 Name: Izzy
Age: 2
Previous Life: Owner Surrender
Sex: Female
Weight:
Altered: Yes
Housebroken: No
Good with dogs/cats/kids: Yes/Unknown/Yes
Likes: Unknown
Dislikes: Unknown
Izzy is energetic and very loving.  She is a total lap dog! It'd be best if she had another dog or kids to play with.
Izzy is adopted!
Update from Furever Home:
We are getting along great.  If I am sitting she is on my lap or up against my leg if I have something on my lap.
I didn't change her name.  I have a granddaughter whose name is Isabella and we call her Bella and I told her that I couldn't have two Bellas so Izzy would be Izzy.  She thought that was great.
I believe I have all her medical records.  The vet called and clarified something about shots.
Yes, Izzy is staying with me!  I love her.
Our dogs love to sleep on Kuranda Dog beds, but we don't have enough for everyone.
If you would like to donate a bed at a special wholesale price for a another dog to sleep in comfort, please donate a Kuranda dog bed.