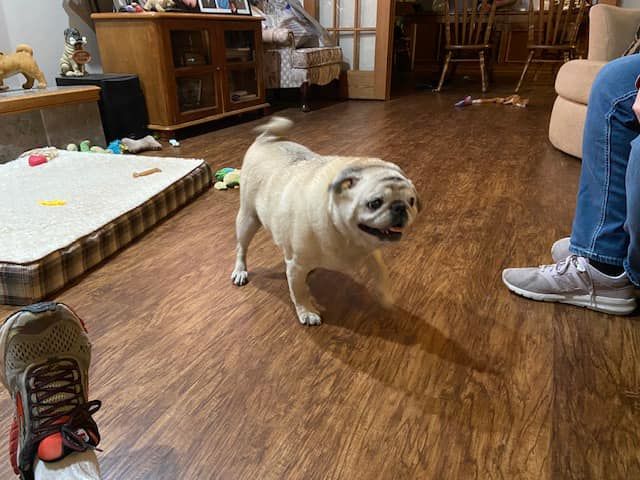 Izzy – Adopted
Name: Izzy
Age: 11 years
Sex: Female
Previous Life: Owner Surrender
Weight: 24 lbs and dieting
Altered: Yes
Housebroken: Yes
Good with dogs/cats/kids: Yes/Yes/Yes
Likes: I love to explore the yard, lay in the sunshine and snuggle with the other dogs.
Dislikes: None
Crate trained: Yes
Fenced yard required: Yes, required
Special Needs: Minimal hearing and needs to maintain a healthy weight. I need to be adopted with my sister Ozzy.
Hi! My name is Izzy and I am an 11 year old fawn female pug. When I came into foster care I was very FAT and had mobility and breathing issues. I have been on a strict diet and have lost 3 pounds. I have become a lot more active and I can breathe so much better! I will need to have a family that will keep my weight down so I can feel my very best. My sister Ozzy and I came to the rescue after our elderly owner was no longer able to be home to take care of us. You might have expected us to be a bit sad but our foster Mom says we marched right in and took over! I am very confident and well adjusted. It is very apparent that I was well loved and cared for. Mom says Ozzy and I are a couple of the happiest pugs she has ever had. I LOVE people and cannot get enough attention. If you are petting me and stop, I will nudge your hand with my paw to let you know that you were not finished! I love exploring in the yard and laying in a pug pile with my sister and the other resident dogs. I'm not very interested in playing but I do enjoy watching Ozzy play and I will follow her around but I don't really get involved. I live with a cat in my foster home and we get along fine. I bark at her occasionally just to let her know that I see her but I never chase her. I am pretty talkative and I will bark to let you know that it is dinner time or when I'm thinking I could use a little attention. I am looking for a loving home where I can live with my sister and get lots of attention!
Interested in adopting? Email our adoption coordinator kristi@pugpartners.com and let her know why you think your home is a perfect match!
Izzy's minimum adoption donation is $200.
Can't adopt, but want to make a big difference in the life of this pug? Become a sponsor today!