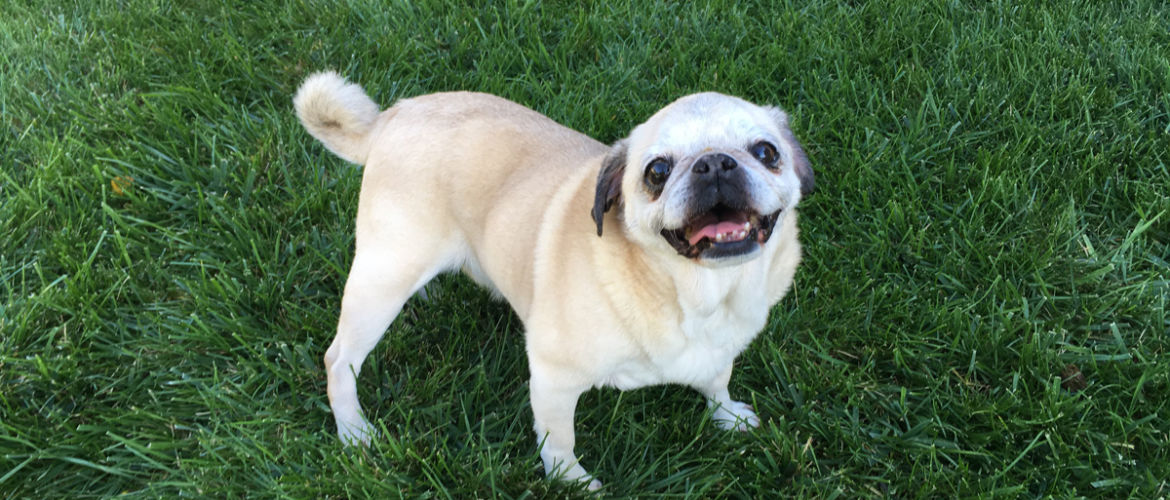 Jesse – Adopted
Name: Jesse
Age: 13
Previous Life: Owner surrender
Sex: M
Weight: 19 lbs.
Altered: Yes
Housebroken: Jesse needs to go out every 4-6 hours. He will use cloth/reusable potty pads if made available.
Good with dogs/cats/kids: Yes/Yes/Unknown
Likes: Sleeping on doggie beds, roaming the yard
Dislikes: Sudden movements, mostly hands on approaching him.
Crate trained: No, he likes to sleep in his crate, but only if it's left open. Otherwise he will try to escape his kennel.
Fenced Yard Required: Yes
Special needs: Jesse is either mostly or completely deaf. He is excellent at escaping kennels. Jesse is also very shy but he also gets lonely.
I'm Jesse, a healthy, handsome 13-year old boy. Since I was a puppy, I lived in the same home. But recently, my owner could no longer care for me, so I came to Pug Partners. It's been a tough transition for me. You see, I haven't had much exposure to new places before. When I first came to the rescue, I was very, very anxious. While some dogs only need a few days to adjust, I needed a few weeks until I really started to relax and act like myself again.
I'm naturally a wallflower. I like to be around people, follow them from room to room, get my nose into whatever they're working on, and give them tiny kisses on their feet and hands when I'm happy. However, I really don't feel comfortable being petted, touched, or held. My foster mommies are helping me to learn that I don't have to run away if someone reaches their hand out, and that ear scratches could be nice. Most of the time I like to lay on one of the doggie beds in the house. I like keeping an eye on everyone and I enjoy their company. When I get lonely, I howl like a little wolf. I'm a really good singer! But I'm very quiet when I'm near my people and I feel secure.
I'm deaf, but I can still see well and I like to wander around the house and yard. I'm quite mobile for my age, and I enjoy feeling the wind in my fur when I run through the backyard. I can even climb stairs, though I sometimes slip a bit on the wood ones. I won't go down a flight of stairs, but one or two are ok. I'm still working on my leash skills and I may become nervous when people approach me (especially strangers), so it would be best for me to be in a home with a fenced-in yard.
I get along well with my senior foster pug siblings. I wouldn't mind having a forever home with other adult dogs to be my role models and help me learn to be more confident.
Are you a patient person with room in your heart for this sweet senior boy? Fill out an application for Jesse today!
Interested in adopting? Jesse's minimum adoption donation is $175.
Thank you to Humphrey, Daisy, and Gizmo for sponsoring Jesse!
Can't adopt, but want to make a big difference in the life of this pug? Become a sponsor today!