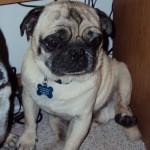 Name: John Deere
Age: 7 years
Previous Life: Owner Surrender
Sex: Male
Weight:
Altered: Yes
Housebroken: Yes
Good with dogs/cats/kids: Yes/Yes/Yes
Likes: Unknown
Dislikes: Unknown
Foster home update – Hi my name is John Deere. My foster Mom says she would name me Teddy because I'm just a big lovable Teddy Bear. I have been at my foster home for about six weeks and I love the pugs, cat and kids who live here! I've learned to go up
and down stairs and I am learning many words. My favorite is, "treats". I hate to brag, but I'm doing very well with going outside to do my business, Mom says better than two of the others who live here! I walk very well on a leash and enjoy walking with the other pugs. I have looked at the cat a few times but we have an agreement just to ignore each other and it's working great for both of us. They say I am seven years old but my foster Mom and Dad don't think I am that old. I am very spunky but also love to just hang out with my pugs and people. I was pretty fearful when I first arrived but
I am learning to trust more and more each day. I have learned a lot here and now I'm ready to find my furever home. My foster Mom says I'm going to make some family very happy! Will it be you?
I'm John Deere. I'm 7 years young and was a breeder release Pug. I've been in foster care for a week learning what a pugs life should be! I love attention from my foster parents but I'm stilla little nervous about learning to trust. I've mastered going up stairs but not going down yet. I'm starting to learn that I'm to do my business out side but wearing a belly band inside is still a good idea. I'm friendly and love other dogs! I like going for walks but still learning to walk nice on the leash. I don't pull though. I'm healthy up to date on my shots and was neutered. I'm active and a truly loveable guy so if your looking for a forever kind of man…that's me!
John Deere is adopted!