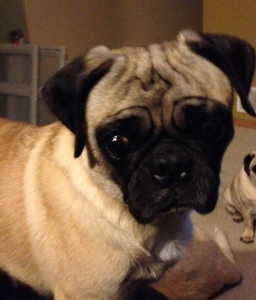 Name: Kylie
Age: 6
Previous Life: Breeder Auction
Sex: Female
Weight: 17 lbs.
Altered: Yes
Housebroken: I'm working on it!
Good with dogs/cats/kids: Yes/Unknown/Yes
Likes: Loves to snuggle
Dislikes: Sudden movements are kind of scary for me still
Crate trained: Yes
From her foster home:
Kylie is a wonderful dog. She will require eye drops for the rest of her life as she has dry eye. She is by far the first foster dog we have opened our home to that has warmed up so quickly to all of us and our other dogs. You can definitely tell she was a mommy dog and like to sniff and "lick" anything plush. She is working on housebreaking and going up and down stairs. You can tell that she would like to play with the other dogs but is not sure how to go about it. We have only had her for a week but she is so friendly and kind anyone would be lucky to have her in their home. Kylie loves to snuggle on the couch and is a good foot warmer. She also snores A LOT! Contact Pug Partners of Nebraska today to ask about giving Kylie her forever home!