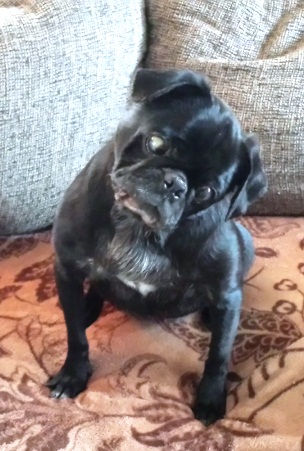 Name: Lurleen
Age: 9 years
Previous Life: Owner Surrender
Sex: Female
Weight: 16.2 lbs
Altered: Yes
Housebroken: Yes
Good with dogs/cats/kids: yes/yes/yes
Likes: Attention;Snuggling, and cookies(Dog biscuits)
Dislikes: Have not found any
Crate trained
Lurleen has cataracts and is mostly blind, but compensates for this with a great nose. She can locate you any where in the house and of course will show you where the cookies are. Very adorable pug, gets along great with my pack of 5 dogs, doesn't mind the cats at all. She doesn't let cataracts slow her down. She has learned the placement of furniture and patio/yard boundaries very quickly at our house. She manages to go upstairs just fine, but does require assistance going back down. Lurleen is diabetic and is currently on 6 units of insulin twice a day with her meals. Lurleen has a great butt wiggle that she does whenever she gets petted. She loves attention and to snuggle and relax on your lap, right beside you, or at your feet. Lurleen likes to sleep at the foot of the bed, but requires lift assistance. She is also happy to sleep on a dog bed in the room with you. She is housebroken and crate trained. She is vocal and will have conversations with you, frequently tipping her head. She gets very excited about breakfast, dinner, and cookies. Usually about 8:30 pm she is pointing out where the cookies are kept and letting me know what time it is. Lurleen has a good understanding of: lets go outside, lets go inside, kennel up, and of course breakfast, dinner, and cookie.