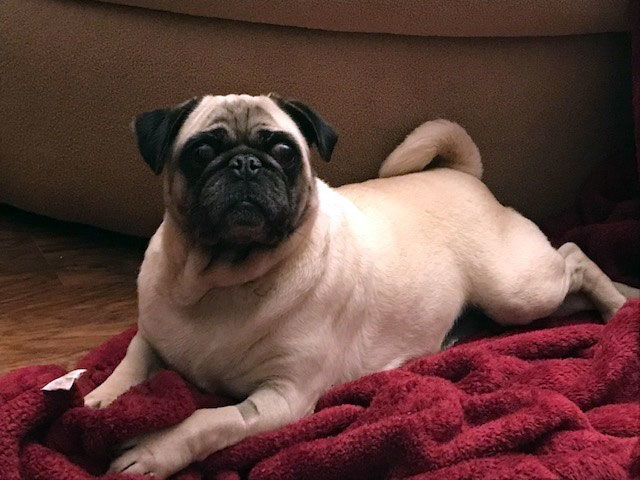 Margarita – Adopted
Name: Margarita
Age: 4 yrs
Previous Life: Breeder Release
Sex: Female
Weight: 21 lbs
Altered: Yes
Housebroken: Not yet but working on it!
Good with dogs/cats/kids: Yes (another dog/s is preferred)/May bark at cats/Yes
Likes: Rita loves to run in the yard and she NEEDS regular exercise
Dislikes: None
Crate trained: Yes
Fenced yard required: Yes
Hi my name is Margarita but by foster family calls me, "Rita". When I arrived at my foster home I weighed in at 26 pounds! My breathing was LOUD and asthmatic sounding without any exertion. I have been on a very strict diet and have had a lot of exercise running in the yard. I am down to 21 pounds and although I'm not to my goal weight just yet, I feel fabulous! I have so much more energy and my breathing has improved so much. It was a struggle for me to get around the yard at first but now I run just about everywhere I go! Sometimes I run just for the heck of it, because I can! My furever family will need to keep me very disciplined with food and treats. I don't ever want to go back to being the pork chop I was before!
My foster Mom says I am very well adjusted and I don't show the signs of mistreatment that some mill survivors do. I love, love, love people! I also like to talk to you and tell you what I am thinking! I will occasionally play with stuffed toys but I'm not real excited about that. I do love to chase my foster Dad around the yard and try to catch him. I was rescued with another pug named, Carmen and she is here at my foster home with me. I love to play with her and we like to chase each other. We also love to do pug zoomers inside the house and outside too! The pugs who live here are older and I am very respectful to them. I like to cuddle with them but they have told me they are "all played out" so Carmen and I don't bother them with our antics. I am a very lovable girl, looking for the perfect furever family! I am happily waiting to meet you!
Margarita's minimum adoption donation is $350.
If you're interested in adopting her send an email to our adoption coordinator, kristi@pugpartners.com.
Can't adopt, but want to make a big difference in the life of this pug? Become a sponsor today!