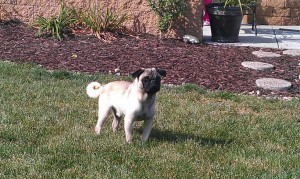 Name: Marley
Age: 1
Previous Life: Surrendered by breeder
Sex: Male
Weight:
Altered: Yes
Housebroken: Unknown
Good with dogs/cats/kids: Unknown/Unknown/Unknown
Likes: Unknown
Dislikes: Unknown
Marley is the sweetest little boy you'll ever meet! He is just over 1 year old and he is blind in the left eye but can see out of his right. He was just rescued from a breeder near Sioux City. He is neutered and up to date on his shots. More info to come soon on this sweetie when he gets into a great foster home.
-update from foster home
Marley is doing great.  He has only had one accident in the house, it was the first day and It was my fault.  He tries really hard not to potty in the house and now I know know his signs for going out.  He can't get the hang of going down stairs and I think that is always going to be a problem since he doesn't have the depth perception.  However he is starting to manage the back 3 steps from outside into the house.  He has even learned from cuddles to stand and wait at the back door.  He loves to cuddle and has a blast with the kids.  He has taken more to the kids than he has the adults. Kristi was here yesterday and visited for a little while and brought the drops and gel for his eyes, she was also able to help me get him to eat and he has been eating and drinking well.  I know he sees shadows really well and loves to play outside.  I call him a little goofball because he likes to run pounce, and play.  He likes outside more than he likes the inside.  He doesn't play with toys but he loves to run around the yard and gets excited if he is able to catch you and pounce on your feet.   He doesn't wander off and stays close to his caregiver.  He also likes the Ferret and Cuddles. He has recently stopped pacing and will now lay at my feet and take a nap unless one of the kids is willing to play then he eats up. I am so glad you thought of us for Marley the kids love him and it has been a rewarding experience for us to watch him come out of his shell  and learn that people will actually love him and be there for him.
-Update from foster home. I can honestly say he has come to life this last week. Marley now plays with our other dog and has taken an avid interest in his chew toys. Marley could play with a hard chew bone for hours. We have him sleep in his crate at night and he does not seem to mind it. He has done very well learning how to walk up the stairs. Going down stairs is still an issue. I usually put him on a leash if we have to go down the stairs, and he seems to do better, doesn't take the leap of faith. His little tail stays curled most of the time now, and he still loves playing with the kids. He likes being outside and he still stays close to his caregiver. If you want a loyal dog, Marley is your man.
Marley is adopted!
Here is an update from Marley's Furever home:
First, we kept Marley's name. We considered changing it but Marley seemed to really respond to it, and the name really suits him :) Marley has made himself at home with our family. He sits with our first pug, Mopsy, and us at the dinner table and sleeps with us all in bed. He's so affectionate and playful! He and Mopsy are getting along well. They seem to either be playing or snuggling with each other most of the time. We are really the lucky ones to have found PPN and Marley! He truly completes our family
Our dogs love to sleep on Kuranda Dog beds, but we don't have enough for everyone.
If you would like to donate a bed at a special wholesale price for a another dog to sleep in comfort, please donate a Kuranda dog bed.