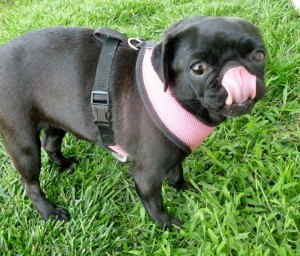 Name: Mercy
Age: 4
Previous Life: Breeder Auction
Sex: Female
Weight: Unknown
Altered: Yes
Housebroken: I'm working on it!
Good with dogs/cats/kids: Yes/Yes/Unknown
Likes: Enjoying the pug life!
Dislikes: Unknown
Crate trained: Unknown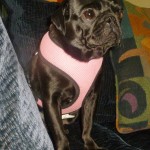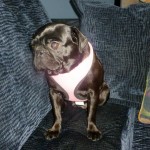 Mercy is a real sweetheart! She was a bit shy at first and really enjoyed the backyard. She is getting used to the good life and sleeping in a bed or a pile with her foster pug brothers. She enjoys just being with any of us, and is adjusted to being in the bathroom "kennel" with the other pugs when we aren't home. Also adjusting to stairs, leash walks and gets along with the cats.
She had a good check-up, has had a dose of dewormer and spayed. We are working on house-breaking and having her not jump up on people, and making progress. She is not food crazy and just wants to be with you. She will make a fantastic forever companion!