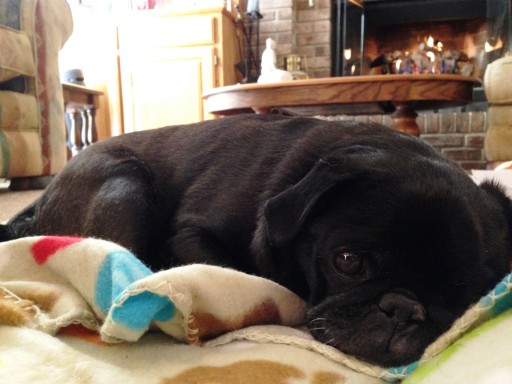 Name: Mernette
Age: 9 years old
Previous Life: Owner Surrender
Sex: Female
Weight: Unknown
Altered: Yes
Housebroken: Yes
Good with dogs/cats/kids: / /Yes
Likes: Lounging; Walks and being with family
Dislikes: Unknown.
Mernette is such a sweet girl! She has been with us for a few days now and is doing great. She is 9 years old but appears very healthy and active. She loves to lie around and sleep like pugs do, but also gets excited when it is time for a walk. She is very happy when her people come home from being out or just come back into the room! We are greeted with her happy dance and wagging tail. She is potty trained and sleeps on the couch here, though I bet she would love to share a bed with her person as well. She is good with kids (ours are 4 and 6) and just seems to like people in general. She is a gentle and sweet little soul and will make someone a wonderful companion!
Mernette is Adopted!