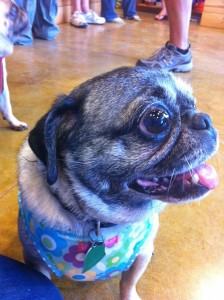 Name: Missy
Age: 8 Years
Previous Life: Sioux City Shelter
Sex: Female
Weight:17
Altered: Yes
Housebroken: Yes
Good with dogs/cats/kids: Yes/Yes/older kids
Likes: Unknown
Dislikes: Unknown
Missy is totally housebroken ! I haven't had one accident with her. She is very good with our 2 pugs, our cat and our son's Boston Terrier. The only time she gets a little skittish is if a bigger dog is too aggressive or if there are to many new people around. I would say older kids would be okay. She adores us and is always waiting at the door when we get home. She is not a big toy girl but does like a rawhide bone and loves to play "chase me". I just thought a little more info on the website might help. I am sitting here writing this and she is sleeping at my feet. She is a devoted sweetheart.
Missy is Adopted!
Our dogs love to sleep on Kuranda Dog beds, but we don't have enough for everyone.
If you would like to donate a bed at a special wholesale price for a another dog to sleep in comfort, please donate a Kuranda dog bed.