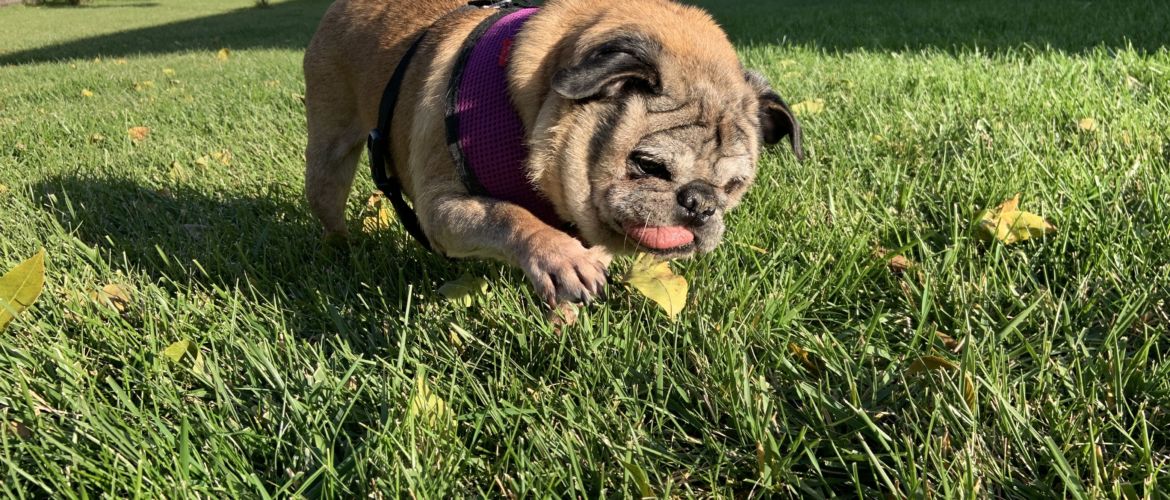 Mitchie – Adopted
Name: Mitchie (Ideally, should be adopted with Maggie)
Age: 7 yrs
Sex: Female
Weight: 19.6 lbs
Altered: Yes
Housebroken: Working on it!
Good with dogs/cats/kids: Yes, another dog is a must/Unknown/Unknown
Likes: Leaves, underwear, socks, occasionally actual dog toys
:)
Crate trained: Not a huge fan of crates
Fenced yard required: Yes
Meet Mitchie and Maggie! These 8 year-old sisters came from the same litter, and they are as close as twins can be! They love to do everything together and are usually only a few inches apart. They keep each other company and help comfort each other as they learn a new life.
Both Mitchie and Maggie were quite overweight when they came to the rescue. They have been working very hard on their diets, and they have lost a lot of weight. Their forever home will need to help them keep the weight off, and to continue to exercise and strengthen their muscles.
Mitchie loves toys and will seek out and collect dirty socks she find in the house. She doesn't eat them, but rather keeps them in her kennel as prizes. She also likes to find leaves outside which she shares with her sister to play with. Mitchie can have separation anxiety with new experiences. Having her sister close helps reduce her anxiety, but she will need a home that can help her by having a routine and lots of love and patience.
Maggie seems shy at first, but her love of being petted has helped her to warm up to people. She will come up to her foster moms in hopes she will get head scratches. Maggie likes to lead the exploration when she is in the yard, and she likes to take off at a gallop and make Mitchie catch up to her. Maggie has come a long way since she has come to the rescue, but she will need a home that can help her continue to come out of her shell and learn to trust.
Are you looking for two adorable, amazing pugs? Apply for Mitchie & Maggie today!
Mitchie's minimum adoption donation is $275. Interested in adopting? Email our adoption coordinator kristi@pugpartners.com and let her know why you think your home is a perfect match for Mitchie!
Can't adopt, but want to make a big difference in the life of this pug? Become a sponsor today!