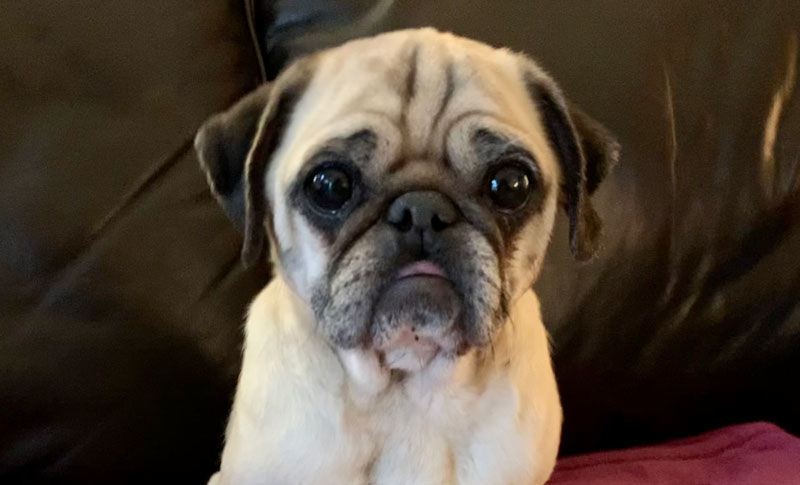 Molly – Adopted
Name: Molly
Age: 7 yrs
Sex: Female
Previous Life: Breeder/Owner surrender
Weight: 15 lbs
Altered: Yes
Housebroken: Working on it!
Good with dogs/cats/kids: Dogs: Yes/Yes/Yes, older preferred
Likes: Cuddling on the couch, playing with other dog
Dislikes: Molly is skittish if people are talking or laughing loud or make sudden movements towards her.
Crate trained: Yes
Fenced yard required: Preferred
Special Needs: Molly doesn't have any teeth. She eats dry food mixed with canned food and she does well with it. I feed her soft treats. Having no teeth does not seem to slow her down.
Hi! My name is Molly and I am an energetic 7 year old fawn pug. I LOVE my foster Mom and I like being with her wherever she is. I follow her around the house so I know what she is doing but my favorite thing to do is to lay on the sofa with her while she is watching TV. I am a very happy go lucky girl for the most part. People laughing or talking loud or sudden movement towards me does scare me a little.
I currently live with an older pug and a young french bulldog and I get along with them both equally well. Millie (the frenchie) and I like to chase each other around the yard and I sometimes try to play with her or with a soft toy but I honestly don't fully understand the concept of playing yet. I am very interested when my people play with the other dogs though. I also live with a cat. We pretty much ignore each other and that works out well for both of us but sometimes we share our foster Mom's lap! I like to go outside when it is nice but not so much when it is cold. I like to wander around the yard and investigate all the smells.
I will talk to you if I have something I want you to know. I do a little howl when I am really excited and I will bark if I want out of my crate or if I want to come inside.
I don't have any teeth but that doesn't slow me down much. I eat dry food mixed with some canned food and my people feed me soft treats. I do just fine with all of them.
I am doing very will with house training as long as I am let outside (or sometimes strongly encouraged when it is cold) on a regular basis. I enjoy sleeping in bed with my people and dogs but I don't mind sleeping in my crate. I am looking for a loving family who will give me lots of love and attention and provide me with a furever home. If you are looking for a mature pug with lots of energy and love to give you, I just might be your girl!
Molly's minimum adoption donation is $275.
Interested in adopting? Email our adoption coordinator kristi@pugpartners.com and let her know why you think your home is a perfect match!
Can't adopt, but want to make a big difference in the life of this pug? Become a sponsor today!