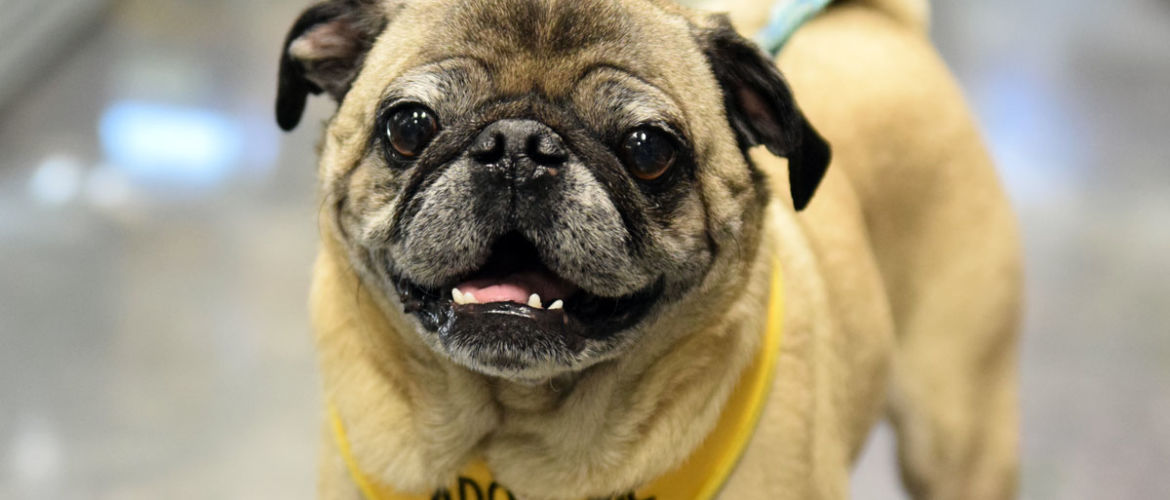 Mugsy Malone – Adopted
Name: Mugsy Malone
Age: 8-10 years young
Previous Life: Owner surrender
Sex: M
Weight: 28.9 lbs.
Altered: Yes
Housebroken: Yes, but needs to have consistent schedule
Good with dogs/cats/kids: Yes/Unknown/Unknown
Likes: Playing with his younger foster brother and chewing on toys
Dislikes: Loud noises are a bit much for me right now and will send me into a corner or to a bed. I want a family with a kind and calm voice.
Crate trained: Yes, but not a fan
Fenced Yard: No, but will require frequent walks and exercise in new home.
UPDATE 1/13/19:
Hi… I'm Mugsy. Things have changed a lot for me over my time in the foster pug home. I came in not feeling the greatest and unsure of these people to now loving them and feeling pretty spunky. I am not as old looking as I was anymore. Good food and medical care have really made me look a lot younger. I still love to play and be active. Fetch with a plush toy or a ball is fun. It's really fun to be chased around by the humans. They laugh at me getting the zoomies. I also really like human beds and I think they should just let me sleep in theirs all the time. I am a good boy and will go into my crate for a treat. I would really like someone who likes to play with me and be active. I'd really like someone to let me sleep in bed with them. Someone who also understands that I just need time to continue with socialization and positive reinforcement to new things. I'm just starting my journey to the good life and I want my forever home to help me continue that.
10/6/18:
Hi I'm Mugsy Malone! I'm a playful, talkative pug that will brighten your day. I am a bit standoffish at first but I warm up quickly. I enjoy following my people everywhere. I may not be a big cuddler yet, but I'm getting used to ear rubs and pats. If you get my spot above my tail, I will really wiggle my caboose! I really enjoy chewing on bones and plush toys. I look distinguished but I'm just a kid at heart. I even keep up with that young pug at my foster parents house.
Loud voices do scare me so don't be surprised if I go to a corner or find a bed to be in away from the noise. I really do try to listen to what my people want. They said go to bed so I jump on the bed. Then they make me get off and go to my very own bed in a crate. So if you would like a nice foot warmer, I would really like to sleep in bed with you. I may be a bit gray around the muzzle but I think it just makes me look wise. My foster parents are always surprised by how much energy I have to play and jump up and down on furniture.
So if you want a dog to be around you but not on top of you that you can give ear rubs and tail scratches to then I am just the pug for you! I also like to talk back so if you want someone to talk to then I am perfect. I especially like telling you about my day when you get home. I'm a pretty fun pug to have around!
Interested in adopting? Mugsy's minimum adoption donation is $250.
Mugsy is currently sponsored by Tom!
Can't adopt, but want to make a big difference in the life of this pug? Become a sponsor today!