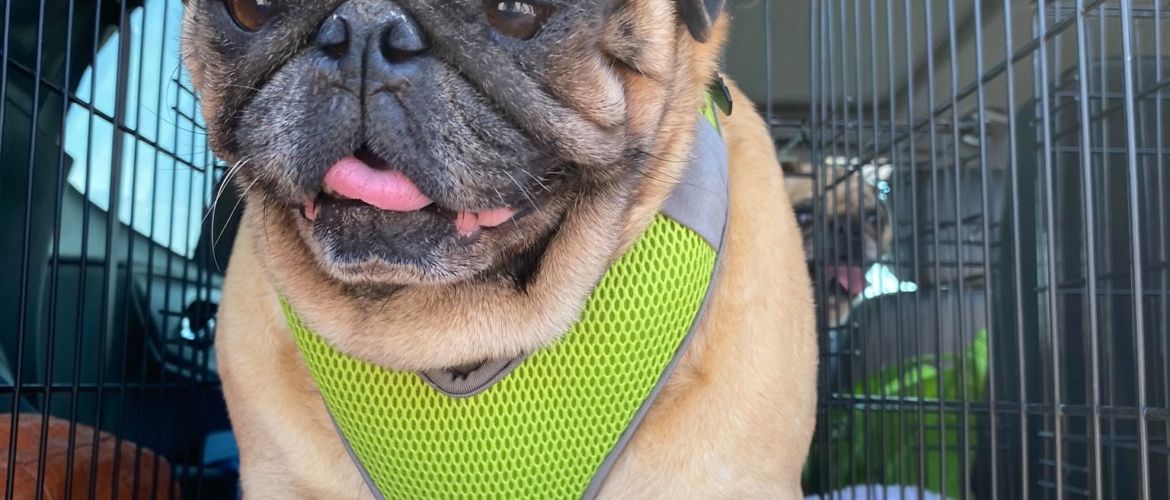 Omega – Adopted
Name: Omega
Age: 7 yrs
Sex: Female
Weight: 16 lbs
Altered: Yes
Housebroken: Working on it!
Good with dogs/cats/kids: Yes, another dog in the home is preferred/Yes/Yes, older children are preferred
Likes: Omega likes to carry around stuffed toys but doesn't really know how to play with them yet and she will tear them apart and eat them if left unattended.
Dislikes: Omega is timid around people but is getting better every day. Sometimes she still doesn't come out of her kennel if someone is standing too close to it.
Crate trained: Yes
Fenced yard required: Yes
Special Needs: Dry eye
Hi my name is Omega. I am a happy seven year old female apricot pug. I have been in my foster home with my sister Olivia since the end of May. I was very afraid of people when I first arrived and very overweight. I have lost some weight and feel so much better. My new family will need to make sure I keep the weight off. I am beginning to trust people more and more every day. Some days I'm afraid to come out of my kennel if someone is standing too close, but if you give me some room I will come on out on my own. I am very willing to get in my kennel for a treat! I haven't really figured out how to play with toys yet but I do like to carry around a stuffed toy. However, if I am left unattended with them, I will tear them apart and eat them. I will walk on a leash but I really just enjoy hanging out in the yard and exploring with the other pugs. We do have a cat at my foster home and I get along fine with her. We mostly just ignore each other. I like all people and am not particularly afraid of any certain people. Hands scare me a little and I am still learning to trust people. I love, love, love treats! I have had many puppies so my belly is a little saggy but it is firming up as time goes by and as I have lost some weight. I am an all around happy girl and although I'm still a little unsure of people, I really do like attention. I like my sister Olivia and would love another home with other dogs.
Omega's minimum adoption donation is $275.
Interested in adopting? Email our adoption coordinator kristi@pugpartners.com and let her know why you think your home is a perfect match for Omega!
Can't adopt, but want to make a big difference in the life of this pug? Become a sponsor today!