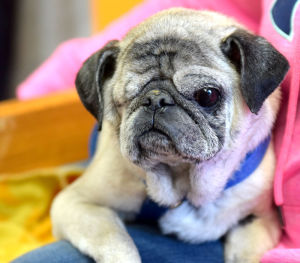 Oscar
Age: 10 years old
Previous Life: Owner Surrender
Sex: M
Weight: 18-20 lbs (I'm working on losing weight!)
Altered: Yes
Housebroken: Yes
Good with dogs/cats/kids: Yes/Yes/Yes
Likes: Being with people
Dislikes: None
Crate trained: Yes
Hi, I'm Oscar. I'm 10 years young. My previous people decided they didn't have time for me, so the nice people at Pug Partners took me in. I'm so glad they did! I get love and attention all the time now. You see my previous humans just didn't give me the care I needed. My nails were curled around into my pads of my feet, boy did that hurt. I let my foster mommy dremel them so they don't ever curl back into my feet. I have a hard enough time walking because I have arthritis and when my nails were bad that just made things worse. I've been walking better already!
I am completely blind and mostly deaf. I sometimes cry when I can't find my people but am better once I know they are by me and I'm not alone. I have done well around cats, dogs, and kids. I do snore and am a very loud eater. I am pretty laid back though, and go along with just about anything.
I walk really well on a leash, as long as we don't go too fast. When we go for walks and I'm about to run into something my foster mom gives a gentle tug on the leash in the direction I need to go.
At bedtime I like to find a comfortable spot to sleep. Sometimes it's the big fluffy bed on the floor, sometimes I lay in the closet on the dirty clothes (they smell like my people) or I go to my kennel or sleep on the super big pile of toys that we have. They are so soft!
Right now, I'm on a very special diet. I have bad knees and I need to lose 2 more pounds. My foster family is helping me to lose weight, but my forever family will have to make sure I don't gain it back.
As you can tell, I have a few health issues, but I have improved a lot since Pug Partners rescued me. Please don't let my age fool you, I have lots of energy and life left in me thanks to these nice people.
Interested in adopting? Oscar's minimum adoption donation is $250.
During March you can adopt Oscar or another senior pug (9 years or older) for $50 off their regular adoption fee.
Can't adopt, but want to make a big difference in the life of this pug? Become a sponsor today!