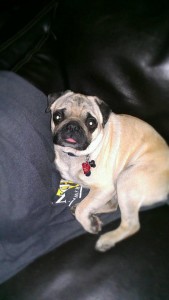 Name: Parker
Age: 3
Previous Life: Abandoned and found as a stray
Sex: Male
Weight:
Altered: Yes
Housebroken: Yes
Good with dogs/cats/kids: Yes/Unknown/Unknown
Likes: Cuddling
Dislikes: Loud activity and high energy dogs
The little pug was found wandering around in KC, it took people a week to catch him, it is assumed, that his owners abandoned him, when they moved away. He hung around an empty house and the neighbors there said, that this family had a pug. He was of course very scared when caught. He's shy around other people at first but comes out of his shell around mild mannered dogs. We are so happy to be have him in the rescue where he will get the utmost care.
Parker is Adopted!
Our dogs love to sleep on Kuranda Dog beds, but we don't have enough for everyone.
If you would like to donate a bed at a special wholesale price for a another dog to sleep in comfort, please donate a Kuranda dog bed.
Happily ever story:He is adjusting well, he has brought out all kinds of Cloe's toys (almost all) and runs thru the house.  He doesn't seem to be a flight risk anymore although we still use a leash when he is outside so he doesn't (just in case!).  He has the funniest little snores…one is a whistle, one is VERY loud (I can hear it across the house), and then just a nice sweet quiet snore.  I am not sure what's up with the whistle but it makes me laugh every time.  Cloe' and Parker are quite the little pair; Parker will follow Cloe' and Cloe' is quite the little 'mother' to him.  She has been trying to teach him the chase game…but he just isn't grasping it.  They snuggle together while sleeping when we are gone, and when we come to the door Parker is soooooooooooo excited and just can't get enough lovin'.  He had his first bath last weekend and did very well, he wasn't sure about it & he really didn't want to  be in there, but put up with it.  We are very happy to have him and he really is such a sweet little 'man'.  Thank you for giving him to us, he is a joy to have .  :)