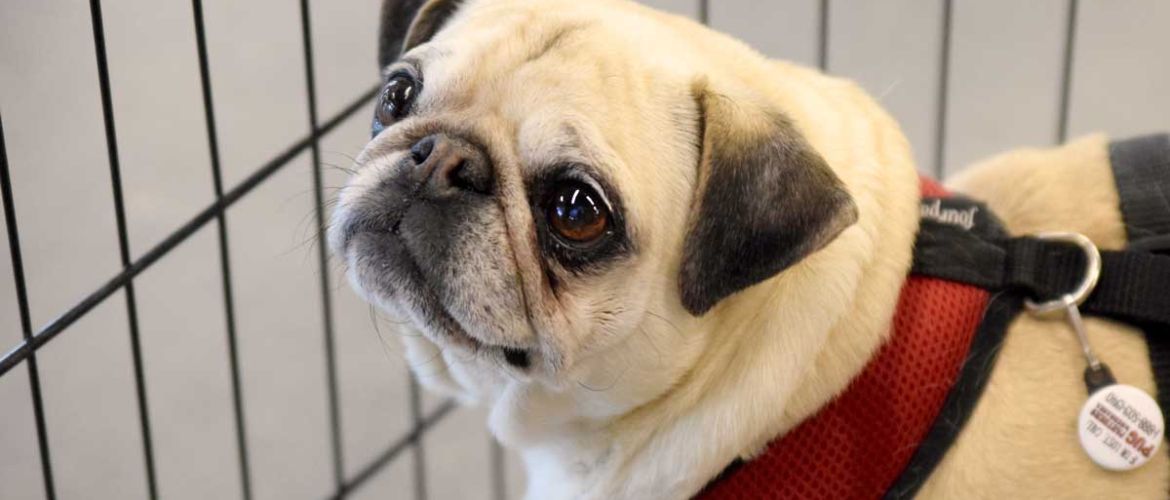 Patty
Name: Patty
Age: 9
Previous Life: Owner surrender
Sex: F
Weight: 12 lbs
Altered: Yes
Housebroken: Yes
Good with dogs/cats/kids: Yes/Unknown/Yes
Likes: Going for walks and being outside when the weather is nice, and of course cuddling
Dislikes: Sudden movements – freezes with fear
Crate trained: Yes
This is Patty. Of course all pugs are perfect in their own way, but Patty is truly a perfect little pug! I don't know much about her life before she joined our household but whatever her life was like she clearly adjusted well.
Patty is around 9 years of age but you wouldn't know as she gets around very well. She really enjoys being outside and going for walks. She is calm and loves to cuddle. If she is not in someone's lap, she has found a soft bed to take a cozy nap somewhere.
Patty does great with her three foster fur brothers, but doesn't necessarily seem to need another dog in the house. Patty is very social and has not met anyone she doesn't like or seems timid of including our three older children. Patty lets you know she loves you and any attention you give her by giving you kisses. She has a voice but is not overly loud. Patty is house trained and has a good but not overactive appetite. She doesn't have a lot of teeth which doesn't seem to give her any issues eating. Patty would do great in a home looking for a sweet little cuddly lap dog.
Interested in adopting? Patty's minimum adoption donation is $275.
During March you can adopt Patty or another senior pug (9 years or older) for $50 off their regular adoption fee.
Can't adopt, but want to make a big difference in the life of this pug? Become a sponsor today!