Penny – Adopted
Name: Penny
Age: ~10
Previous Life: Owner surrender/shelter transfer
Sex: F
Weight: 21, but I'm told I'm on a diet because I'm a little too voluptuous
Altered: Yes
Housebroken: Yes
Good with dogs/cats/kids: Yes/Unknown/Unknown
Likes: Gazing out the window, going for car rides, walks, sitting on a comfy lap
Dislikes: None
Crate trained: Yes, I actually love my crate!
Fenced Yard Required: No
Special Needs:
** Some hearing loss
** Penny has a history of urinary infections and bladder stones, though she had no stones when she came to rescue. The vet suggested making extra sure she stays clean to help prevent infections, and to get her on meds right away if she does develop an infections so she doesn't end up with stones again. She has very long nails that were neglected and will need patience to slowly trim down to a safe length. She is also prone to ear infections and facial fold infections.
I'm Penny, and whoever picks me up is very lucky! I'm a sweet and spunky 10-year-old gal. I was dropped off at a shelter, and the shelter was kind enough to send me to Pug Partners so I could take my time picking out the perfect forever home.
When I first came to the rescue I was so overweight I had trouble catching my breath. I've been working really hard on my diet. I've already lost a few pounds and it's much easier to breathe without all that extra weight! My forever home must not give me too many treats, even when I beg with my big, beautiful eyes. I know it's tempting, but it's very important that I stay a healthy weight.
I'm such a smart girl! I let you know when I need to go out to potty, and when I need help getting on or off the furniture. I know how to sit, lay down, and speak. I'm also really good at sleeping in a kennel. In fact, I'll go in and take naps on my own if you leave the door open.
I get along well with the other dogs in my foster home, but people are my favorite companions. I like to sit on your lap, snuggle with you on the bed, and follow you around the house.
My favorite hobby is looking out the window. I'll let you know if someone is coming up the driveway, or if there are any "suspicious" animals in the yard. I also enjoy going for walks, and if you go for a car ride, I'd love to come too!
Do I sound like the perfect companion for you? Fill out an application today!
Interested in adopting? Penny's minimum adoption donation is $250.
Can't adopt, but want to make a big difference in the life of this pug? Become a sponsor today!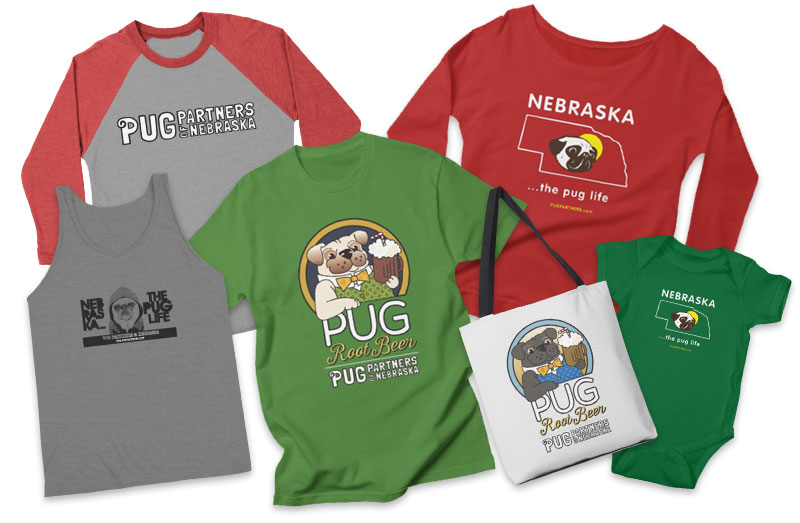 Go Shopping & Help Save Pugs!
Pug Partners now has an online apparel and accessories store. The best part is, every purchase supports our pug rescue efforts!