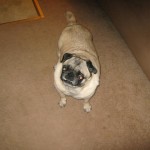 Name: Pepper
Age: 7
Previous Life: Owner Surrender
Sex: Female
Weight:
Altered: Yes
Housebroken: Yes
Good with dogs/cats/kids: Yes/Unknown/Yes
Likes: Unknown
Dislikes: Unknown
Pepper is very loving and active she is 7 yrs old. Pepper will cuddle as long as you want. Pepper is very good with kids & cats. She will walk very well on leash and love walks! She also loves car rides. She will be happy to sleep with you (not a bed hog) or be happy in a crate.. The previous owner dumped them in a shelter. She is spayed up to date on all vetting and very healthy. A bundle of love waiting for a loving home.
Pepper is Adopted!
Our dogs love to sleep on Kuranda Dog beds, but we don't have enough for everyone.
If you would like to donate a bed at a special wholesale price for a another dog to sleep in comfort, please donate a Kuranda dog bed.
Happily ever story: I kept her name.  Pepper is doing O.K.
She is adjusting to her new home.  She has learned how to use a doggie door, and she has realized that this is her new home and she is the only dog and has begun to bark at strangers.  She is a bit sad when I leave, but very happy when I come home.  She sleeps fine on my bed.  She likes going for walks and being outside.
I took her to the vet back on May 3rd.  She got her immunizations and found out some of her upper teeth are bad and need to come out.  That'll happen on May 16.  Her teeth do bother her and she has been irritable recently and in a bad mood.  She should be a lot better after the 16th.
Overall, she is content.  She sure does love her turkey and ham treats!