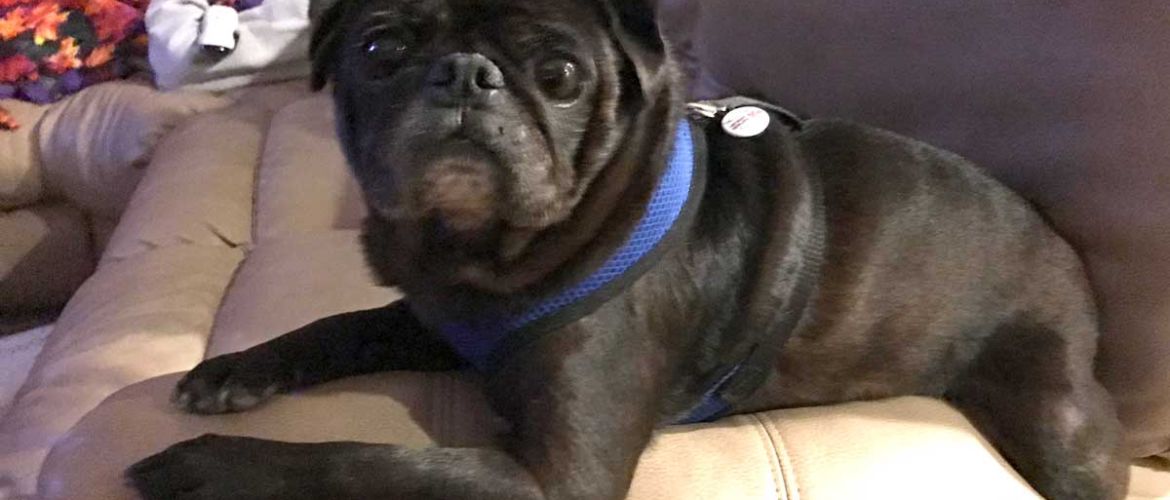 Pete
Name: Pete
Age: 9 years
Previous Life: Owner Surrender
Sex: M
Weight: 20 lbs
Altered: Yes
Housebroken: Working on it!
Good with dogs/cats/kids: Yes/Unknown/Yes
Likes: Toys, treats, snuggling & sleeping
Dislikes: None at this time
Crate trained: Pete does not like the crate at all. We tried crate training several times and it did not go well. He prefers to be left out on the couch when you leave.
Fenced yard required: No
Hey, it's Pete the pug! I'm a 9 year old, refined young gentleman who's looking for my furever home. I live with my foster parents and 3 other house pugs. I like my foster dad just fine, but I really love my foster lady and their house pugs. There's not a human of any size or age that I dislike!! I get anxious and uncomfortable when my foster lady leaves the room, and I bark at the gate for a few minutes when I can't see her. I haven't taken well to a crate even though the foster lady has tried to crate me many times. Since I am a bit anxious when alone, I would really like to be adopted by someone whose home most of the time, or someone who has another dog or two (or five) for me to sleep with when no one is around! We don't have a fence at my new house, but that's ok. I won't run away from my human, so foster lady says I would be great with or without a fence. I go potty outside like a 'good boy' (whatever that means), but sometimes I wear a band around my belly when the humans leave the house without me. When my humans leave me, I get the entire couch (and remote!) all to myself, and I never do bad things to the house when left alone! I sleep in bed at night with my humans and housemates, which I LOVE. I promise I don't take up much space though, and I'm a very polite, albeit loud, sleeper.
My lady says I'm the most well behaved and adapted foster pug she's ever had. I get drops in my eyes everyday, because my eyes get a little dry without them. I never fight the eye drops, because they make my eyes feel so much better. I'll need these eye drops forever. Sometimes I bump into things, and screen doors are not my friends. My lady sometimes has to speak slowly for me so I can hear what she's saying. Even though my vision and hearing isn't perfect anymore, I still get around like normal pug. My back left knee gets sore sometimes, so I take a supplement so it doesn't hurt so much. I run, walk, and climb stairs just fine, but sometimes after a long day my knee is sore, so my lady will carry me to the bedroom. That's fine by me, because I absolutely LOVE when my lady holds me and carries me around!
I absolutely love eating, napping, playing with plush toys, going on r-i-d-e-s, and being outside. I like to bark at the wind and kick the grass between my toes when I'm outside…this is an ancient pug ritual that is said to bring a lifetime of extra snackies when done excessively. I'm a very sweet, loyal gentleman, and I am very anxious to meet my new family! If you have any more questions about me, just ask my foster lady. In the meantime, I must go get some zzzzz's, because writing this memoir has been exhausting!
Interested in adopting? Pete's minimum adoption donation is $275.
Can't adopt, but want to make a big difference in the life of this pug? Become a sponsor today!