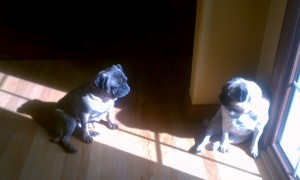 Name: Polly Ann
Age: 4
Previous Life: Surrendered by breeder
Sex: Female
Weight:
Altered: Yes
Housebroken: Getting there!
Good with dogs/cats/kids: Yes/Unknown/Unknown
Likes: Unknown
Dislikes: Crates!
Polly Ann is a breeder surrender born on 3/18/2007. She is so adorable – but quite scared and timid -But she is starting to come out of her shell a little. She doesn't know how to do stairs and seems to never have been out of a kennel. The foster home doesn't kennel her and they bought her a little bed that is her safe place. She is working on potty training and just adjusting to being in a home environment. She is doing better already. Polly Ann is on the left. er. She is a cuddle bug, sleeps on the foot of our bed all nite. She never moves until we get up in the morning. She travels well too once you get going, a little antsy at first then lays down and enjoys the ride. She is not fond of crates
Polly Ann is Adopted!
Polly Ann's Happily Ever after story! We did change Polly Ann's name to Molly. So far she seems to be OK with the change. She is doing great in her new home, she is getting more confident each day. When she first came her her tail was always down and she was very nervous. But now she is a more confident, her tail is up and she follows me around the house.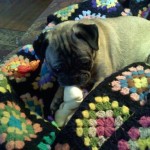 Our dogs love to sleep on Kuranda Dog beds, but we don't have enough for everyone.
If you would like to donate a bed at a special wholesale price for a another dog to sleep in comfort, please donate a Kuranda dog bed.