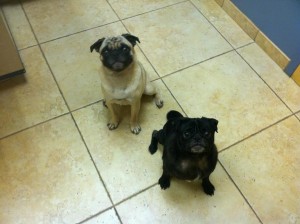 Name: Porkie and Beans
Age: 2 and 7
Previous Life: Owner surrendered
Sex: Male
Weight:
Altered: Yes
Housebroken: Yes
Good with dogs/cats/kids: Unknown/Unknown/Unknown
Likes: Unknown
Dislikes: Unknown
Porkie is 2yr old fawn and Beans is 7yr old black they will be adopted as a pair. $600 is their adoption fee
Porkie and Beans are owner surrendered – a very snuggly and well behaved pair. Porkie is still has little puppy energy and beans just chills. Which makes them a perfect pair!
We look forward to hearing more from the foster family!
Porkie and Beans are adopted!
Our dogs love to sleep on Kuranda Dog beds, but we don't have enough for everyone.
Update from the adopted family:
I named them Cecil (Fawn) and Atticus (black). They are doing wonderful. My doxie loves them and they are a true pack now. They all sleep in the same kennel. The cat is not so sure of them but she'll come around. : ) They are very funny and active. We usually take two walks a day and they are eating well. Yes, you can post their happily ever after story.
If you would like to donate a bed at a special wholesale price for a another dog to sleep in comfort, please donate a Kuranda dog bed.