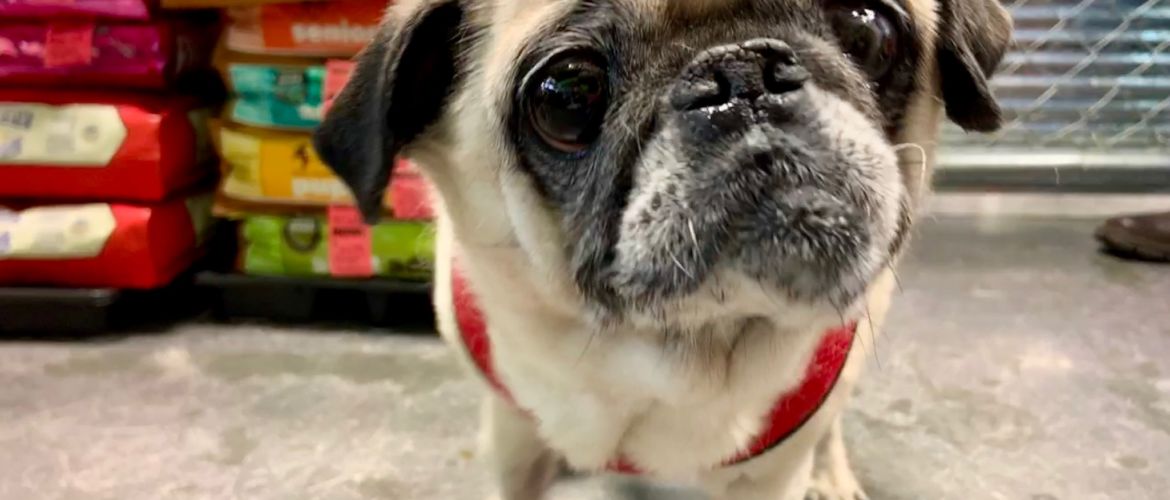 Lovey – Adopted
Name: Lovey
Age: 8 yrs
Previous Life: Owner Surrender
Sex: Female
Weight: 14 lbs
Altered: Yes
Housebroken: Yes!
Good with dogs/kids/cats: Yes/Yes (older preferred)/Unknown
Likes: Walking and snuggling
Dislikes: None
Crate trained: Does not currently use a crate but would likely be fine.
Fenced yard required: Preferred but not necessary
Special needs: Some vision and hearing impairment
Lovey is a love and lovable! Lovey is 8 yrs old and was surrendered to Pug Partners due to her human's illness.
This petite little girl naps a lot, as pugs do as they get into middle age, but she is still quite active. She likes to walk a lot when she is awake, whether it's throughout the house or around the back yard. She walks by herself or will follow her people around the house. She would probably be happiest in a relatively quiet home where she is seldom alone and has freedom to move around and explore.When her foster daddy lifts her up on the couch and sets her next to him, she settles right in against his leg and chills.
Lovey's health is very good overall. Her only prescription is an eye medication she gets twice a day in both eyes. . Her vision and hearing are both limited, but that does not discourage her from moving about. The stairs, however, are gated for her safety.
Lovey lost some teeth when she had her dental, and has only three left. The vet also did some work to straighten her jaw, which is stable. She shows no signs of discomfort and dives into her moistened kibble twice a day, showing a good appetite.
This beautiful young lady is happy, healthy and ready for her furever home!
Lovey's minimum adoption donation is $275. Interested in adopting? Email our adoption coordinator kristi@pugpartners.com and let her know why you think your home is a perfect match for Lovey!
Can't adopt, but want to make a big difference in the life of this pug? Become a sponsor today!