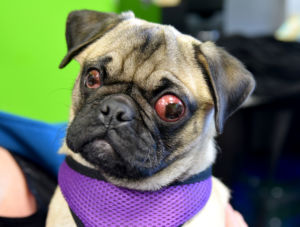 Queenie – Adopted
Name: Queenie
Age: 9 months
Previous Life: Breeder release
Sex: F
Weight: 14.6 lbs.
Altered: Yes
Housebroken: No, but I'm working on it!
Good with dogs/cats/kids: Yes/Yes/Yes – Children over 10 years old
Likes: Tug-O-War, Chewing on frisbees, playing with foster sister Harlow
Dislikes: Loud noises may cause her to cower – she's blind!
Crate trained: Not crate trained due to eyes
Fenced Yard Required: Yes
My name is Queenie and for good reason. I love to trot around like royalty despite what some call a "limitation." You see, I am blind and likely was born with severe eye defects that were not properly cared for. The very nice eye specialist has recommended that I have both of my beautiful eyes removed so I do not injure myself in the future, which is fine by me as I see perfectly fine with my nose.
In a little over a month I will have my surgery and once I heal I will be all ready for my forever home. I would love to have an active, patient couple with another dog and maybe even an older child to play with. I am still very much a puppy and have a lot to learn, so patience is a must! I maneuver around my foster home and yard very well but I would prefer to have you at my side to talk to me and guide me until I learn my way around. I also prefer to have a bathroom buddy when I'm outside to cheer me on, otherwise I may just trot around with my frisbee or find some poo treats.
I love to play with my 1 year old pug foster sister but she chews on my cheeks sometimes and makes me mad (I nicely let her know that I don't appreciate that). I would love another dog brother or sister who will help guide and play with me. I have mastered going up and down the three stairs to my backyard but would prefer to have as few stairs as possible so I don't hurt myself. I can also get under your feet trying to be by your side so please be patient and watch your step.
I am a beautiful girl looking for my perfect forever home and hoping its just right around the corner. Please feel free to ask any questions and these nice people will be happy to answer them!
Interested in adopting? Queenie's minimum adoption donation is $500.
Can't adopt, but want to make a big difference in the life of this pug? Become a sponsor today!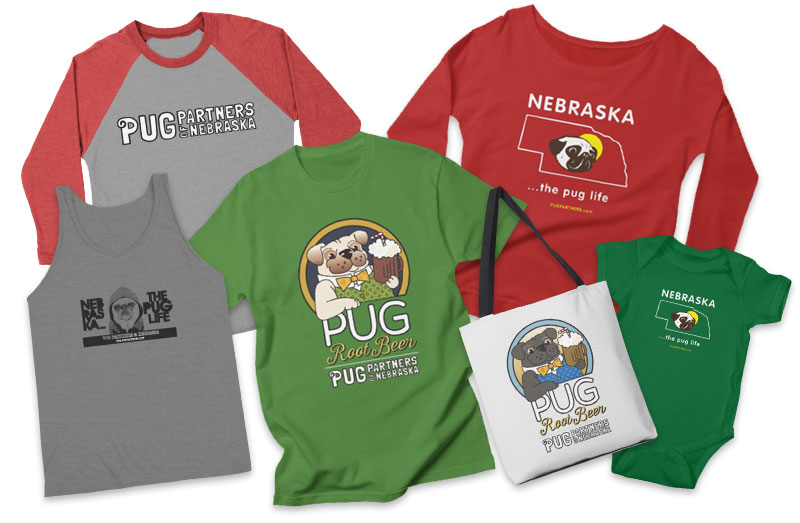 Go Shopping & Help Save Pugs!
Pug Partners now has an online apparel and accessories store. The best part is, every purchase supports our pug rescue efforts!