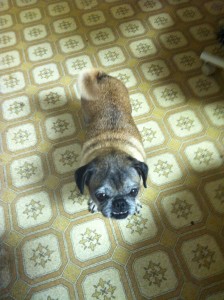 Name: Scarlet
Age: 10
Previous Life: Breeder Release
Sex: Female
Weight:
Altered: Yes
Housebroken: Working on it
Good with dogs/cats/kids: Unknown/Unknown/Unknown
Likes: Attention!
Dislikes: Unknown
Scarlet is 10 years young! She is Oliver's mommy and boy she must know it. She keeps up with him when they run out back. If he "pushes her buttons" she lets him have it. She already knows how to go up and down stairs. She does okay on a leash. She does not have many teeth but she can eat regular dry food. She loves to be center of attention and will slip you the tongue if you're not careful. She acts like she has always been here with us. She loves to sleep on the bed nuzzled up next to your armpit. She is a smaller girl. She loves everyone she meets. She really is a splitting image of Oliver. Whoever adopts Scarlet must allow her to follow them everywhere and be center of attention. She is just a cool dog.