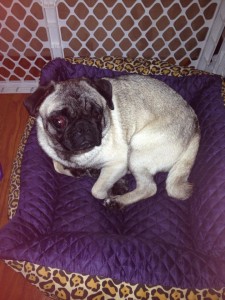 Name: Shannon
Age: 2 years
Previous Life: Breeder Release
Sex: Female
Weight: 14
Altered: Yes
Housebroken: Yes
Good with dogs/cats/kids Yes/Unknown/Yes
Likes: Cuddling!
Dislikes: Unknown
Crate trained: Unknown
9/11/14, UPDATE FROM SHANNON HERSELF:
Hi my name is Shannon. I was a Breeder Release. I have been checked out at the vet with a good bill of health. I only have one problem; I am partially blind and also have night blindness. I have a medication that is dropped into my eye twice a day, no big deal. It's supposed to help my eye from hopefully getting worse and make it better. With light I can see fine and navigate where ever I need to go, even out running with the other dogs, furniture, etc. When we go for walks and I walk very well prancing out in front of you. My foster's usually pair me with their jogging Pug.
My foster family says I am a "Smart Cookie", hope they are not planning on eating me. I have taught myself to do things by watching the other dogs. I learned to use the doggy door to go in/out side to the deck, play in yard, bathroom. I learned to come up the 16 steps from the yard to the deck but needed assistance or encouragement to learn to go down them. Now no problems, Shannon Super Dog can do anything.
I say I am house broke but I occasional do have an accident if I forget to go outside right away in the morning and am not reminded. Or if I'm waiting for morning treats and belly rubs.
I love to play with the other dogs and run in the yard as well as have toys and chew toys to play with. I am a good lap dog, I like to snuggle and give LOT'S and LOT'S of KISSES. My fosters have to pull me away to get me to stop, but I sneak back. I sleep in the cubby hole in the headboard of my foster's bed which is high off the ground. But they have mini stairs for me and the others Pugs to go up/down to get in/out of bed.
Well I think I have told you everything about me. If you think you want to adopt me – (and why wouldn't you? I'm so adorable!) click the link below and tell me about yourself and let's talk.
Thank you for listening to me talk about myself.
Shannon
Interested in adopting Shannon?
Click here for more information on the adoption process!
The minimum adoption donation for Shannon is $400