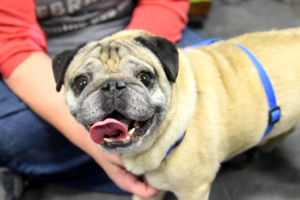 Spud – Adopted
Name: Spud
Age: 8-9
Previous Life: Found as a stray – never claimed
Sex: M
Weight: 20 lbs.
Altered: Yes
Housebroken: I'm working on it!
Good with dogs/cats/kids: Yes/Unknown/Unknown
Likes: Naps, getting my head scratched and hanging out with my humans
Dislikes: Since I'm losing my eyesight, sudden movements sometimes startle me.
Crate trained: Yes, but not a huge fan
Requires Fenced Yard: No
*Special Needs: Dry eyes requiring drops. Some minor vision loss.
Hello, my name is Spud and I'm looking for a new home. I was living free and wild on the street, but it wasn't as cool as it sounds. I'm not really cut out for the Born-to-be-Wild life anymore. I think it's time I settle down and find a nice couch to lay in front of…I've found that is a really nice spot to hang out. I also like chilling out under the big glowing tree in the corner, following people into every room they walk into, and supervising all showers and cooking activities. I get along real well with my foster brother and sister (but I eat slower than they do, so I have to watch my dinner). I really like just being with the group, so if there is any action, I will be there, under foot. It's my superpower. I'm relaxed, easy-going, and just looking for a family to call my own, especially if there is a safe, soft, and warm spot to curl up each night.
Interested in adopting? Spud's minimum adoption donation is $275.
Can't adopt, but want to make a big difference in the life of this pug? Become a sponsor today!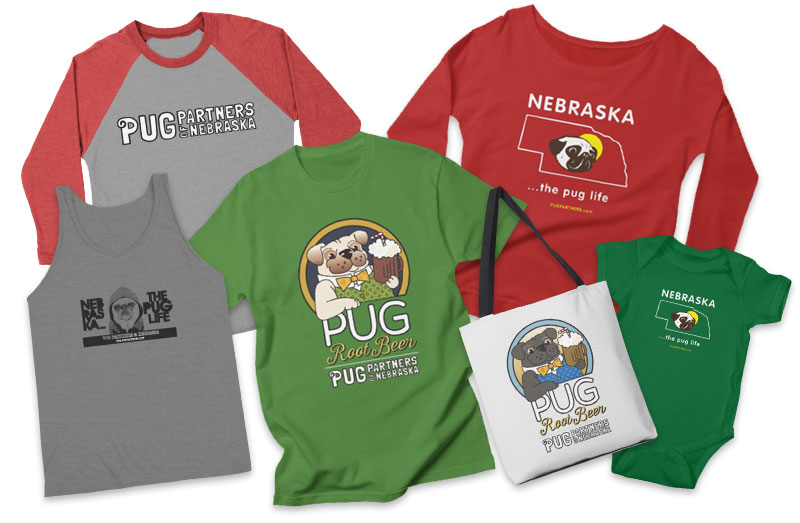 Go Shopping & Help Save Pugs!
Pug Partners now has an online apparel and accessories store. The best part is, every purchase supports our pug rescue efforts!