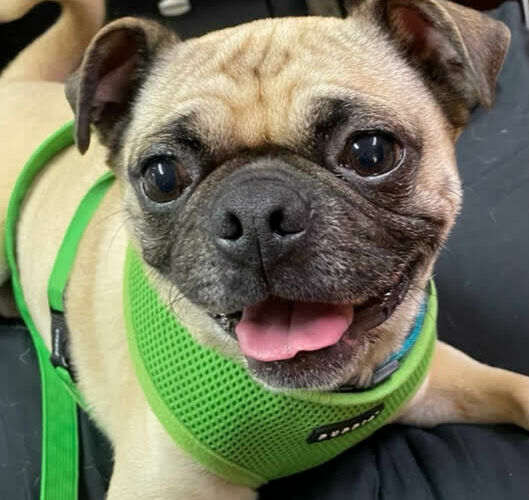 Spuds – Adopted
PLEASE NOTE: All of our adoptable dogs are NOT adopted on a first come, first serve basis. We match the right pug with the right family. Please read the entire bio and details below before emailing. Failure to read all may result in no response or denial. The requirements for each dog are NOT negotiable so please do not ask.
Name: Spuds
Age: 2 yrs
Sex: Male
Previous Life: Shelter
Weight: 21 lbs
Altered: Yes
Housebroken: Yes. Initial marking, has done fantastic after first few days.
Good with dogs/cats/kids: Yes, He has a lot of energy and doesn't take cues well from older dogs who don't meet his energy. He would be best with a playmate of his same energy level/Unknown/Unknown
Likes: Strong stuffies or he'll destroy them. Tug of war. Fetch once he's allowed that again. Bully sticks, tennis balls, greenies. He's not picky.
Dislikes: None
Crate trained: Yes. Takes a bit to calm down but does well after 10-15 minutes.
Fenced yard required: Yes. He really loves to run and play fetch once off activity restriction. He has a lot of energy and would be happiest in an area where he can run freely and he also is still learning to not run out open doors.
Special Needs/Notes: 8 week post op (luxating patella surgery) is Sept 30. Hopefully activity restriction will be released then. Currently only outside on leash, no running or jumping, stairs, etc. He does take a daily Cosequin supplement.
Spud is a very sweet and lovable 2 year old boy. He's very tall and lean which add to his charming good looks. He loves to play and loves to cuddle even more. He burrows under the covers and cuddles up against foster mom immediately when climbing into bed. He would love a playmate that will meet his energy level. He would be happiest in a fenced yard to run and play fetch. He has improved greatly on leash walking but still thinks his leash is for tug of war at times. He's had knee surgery and is still recovering from that and has advanced arthritis for a pug so young. He only had marking issues for the first couple of days and has been perfect with no accidents since. He is a truly special loving playful dog who will make a family exceptionally happy.
Due to the high frequency of applicants NOT ALL pre-screening emails will be responded to. PPN does not allow pugs to be shipped as cargo. For approved out of state adoptions requiring airfare the pug must fit in an airline approved sized carrier able to fit under the seat. Out of state adopters must arrange for transport and in some cases we may have volunteers able to help.
Interested in adopting? Email our adoption coordinator kristi@pugpartners.com and let her know why you think your home is a perfect match!
Spuds minimum adoption donation is $400.