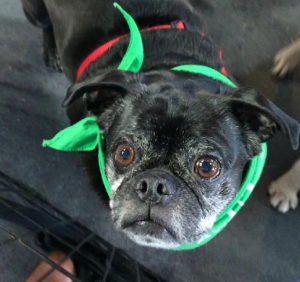 Name: Sydney
Age: 9
Previous Life: Owner Surrender
Sex: Male
Weight:
Altered: Yes
Housebroken: Yes
Good with dogs/cats/kids: Small dogs only/ Yes / Yes
Likes: Being around people
Dislikes: When other dogs get near his food
Crate trained: Yes
Sydney came into rescue as an owner surrender and has adjusted well to his foster home. It took him a day to adjust to the crate and a few days to gain his appetite back. He may be 9, but he's very active and still likes to run rounds in his foster family's backyard.
Sydney was an "only" so his ideal forever home he would be the main squeeze. He's getting along with one of the resident dogs which happen to be a pug, but his other foster sister he's not too fond of and has had some altercations. He does have some food aggression since he was an only child. He doesn't like to share his food or his bowl so for that reason, he needs to have his meals by himself. He's just a needy boy who wants a lot of attention. Who can blame him?
He's also an escape artist. He will try and dart out the door with you so a home with fenced yard would also be ideal. He's working on leash training. We believe he never knew what a leash was prior to coming into rescue.
Sydney would love a family to call his own who can offer a lap and some play time in a backyard.