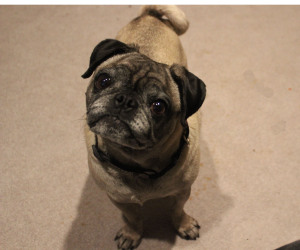 Name: Tex
Age: 7
Previous Life: Owner Surrender
Sex: Male
Weight: 29 lbs.
Altered: Yes
Housebroken: Yes
Good with dogs/cats/kids: Yes/Yes/Yes-over 12
Likes: Running in the yard with my foster pugs
Dislikes: Sharing food
Crate trained: Yes
Tex is a very happy pug.  He enjoys being around people and his 3 foster pugs.  He gets along fine with his foster cat and would really like to play with her.  He was very anxious when we first got him and his owners said he never settled down, paced the house constantly and only seemed to be relaxed when in his kennel.  They tried to get him to sleep on the bed with them but he would get up and pace the house all night.  He is now sleeping in bed with his foster mom and dad and his 3 foster pugs some nights and in his crate some nights.  If given the choice he will sleep with his foster parents.  He is starting to lay down with the other pugs or beside his foster mom when she watches TV.  He loves stuffed toys and he has a security blanket that he often sucks on and it helps him relax.  Tex is a little heavy.  He has lost some weight since he has been in foster care because he runs in the yard constantly with the other pugs so he is getting a lot of exercise.  He is on a controlled amount of food.  He was a very noisy breather when he went into foster care, but he doesn't do that anymore.   It went away with the anxiety.  Tex loves all people and is good with kids however, when the kids are rowdy or messing around with each other, the anxiety shows.  His owners had a very active three year old which we believe was over-stimulating Tex.  He will do best with older kids or no kids.
He is very active and loves to play. His favorite game is tug-of-war with his stuffed bear. Tex is a very handsome guy and will make some lucky family very happy!