Walter – Adopted
Name: Walter
Age: 5
Previous Life: Breeder release
Sex: M
Weight: 20.5 lbs.
Altered: Yes
Housebroken: Working on it!
Good with dogs/cats/kids: Yes/Yes/Unknown
Likes: Cuddling and lots of petting
Dislikes: None
Crate trained: Yes
Fenced Yard: No
Special Needs: Walter will need a forever home with another laid back pug (or similar in size).
Hi everyone! I'm Walter, but I go by Wally or Walt too. They say I'm a sweetheart dog and have a bad case of 'cute face'. I struggle with stairs because I don't see well, but I get around fine and want to see myself into your heart and my forever home! I get along really well with other dogs and cats! I'm working on potty training and doing really good at that too! The perfect lap is out there and I can't wait to find it!
Other personality traits: Walter is a sweetheart dog who will need someone with a bit of patience due to his vision problems. Walter has a very difficult time with stairs or getting on & off the couch, so he typically gets a ride. He can be easily startled, and his remaining eye needs drops a couple times a day. He doesn't like being left alone but is a very nice and loving dog. He gets along great with other dogs and doesn't mind the cat.
Long term veterinary needs: Walter had an eye removed and his remaining eye gets very dry and needs drops a couple times a day. He can barely see out of his remaining eye, mostly just able to detect light. He bumps into people and things and takes time to learn his surroundings but is a very sweet dog. Walter is also taking a liver pill about an hour before he gets food.
Interested in adopting? Walter's minimum adoption donation is $325.
Can't adopt, but want to make a big difference in the life of this pug? Become a sponsor today!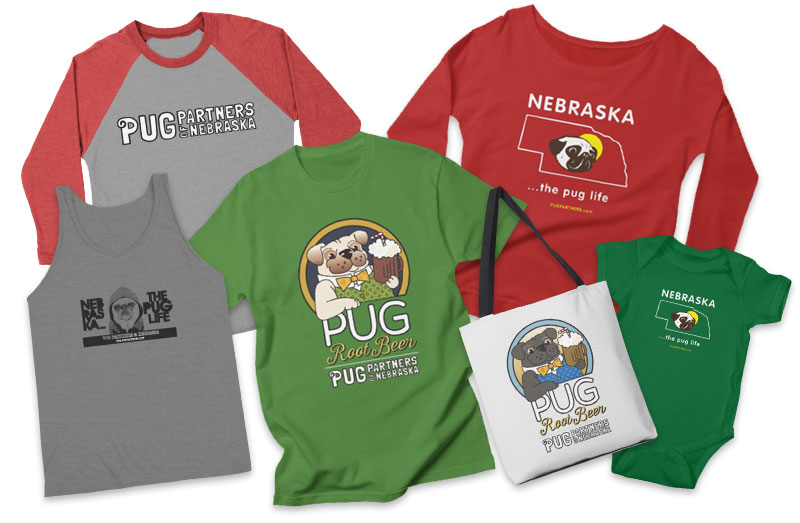 Go Shopping & Help Save Pugs!
Pug Partners now has an online apparel and accessories store. The best part is, every purchase supports our pug rescue efforts!