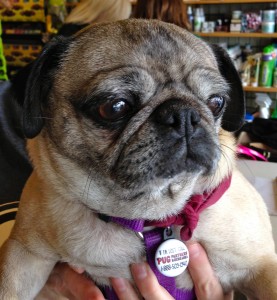 Name: Willow
Age: 8
Previous Life: Breeder Release
Sex: Female
Weight: 16
Altered: Yes
Housebroken: YES via door and doggy door
Good with dogs/cats/kids: Yes/Yes/Yes
Likes: Love and kisses lot of kisses!
Dislikes:
Hello my name is Willow. I came from a breeder so I am a little shy at first
when meeting people. I will be a little skittish at first but then I warm up with hugs and kisses. In my foster home I have other Pugs to play with and sometimes they pet sit for other small puppies and we have fun playing together. I have never seen this animal they call a cat, what it that? I get along well with babies after having so many of my own! I look in and make sure they are OK, and spin in circles if not to let you know. I am housebroke to you saying "time to go outside" or … got to go potty" via a open door or my foster house has a doggy door. I would lean towards a calm furever home with a low activity level. My foster home is a middle aged couple with my mommy home all day with me. They have a daughter just graduated and starting college and two older sons with one in the home.
Like I said I am just looking for a loving furever home that is full of hugs ,kiss and belly rubs, and a yard to play in. And I will give you affection back in Puggy love. I'm a snuggler, I sleep in bed with you but need steps in order to get up there because I am not a jumper. I do not jump up on furniture but can jump down if picked up. When I senses you are waking up I will come over and give you head butts and kisses.
Please fill out an application so I can get some much needed hugs and kisses!