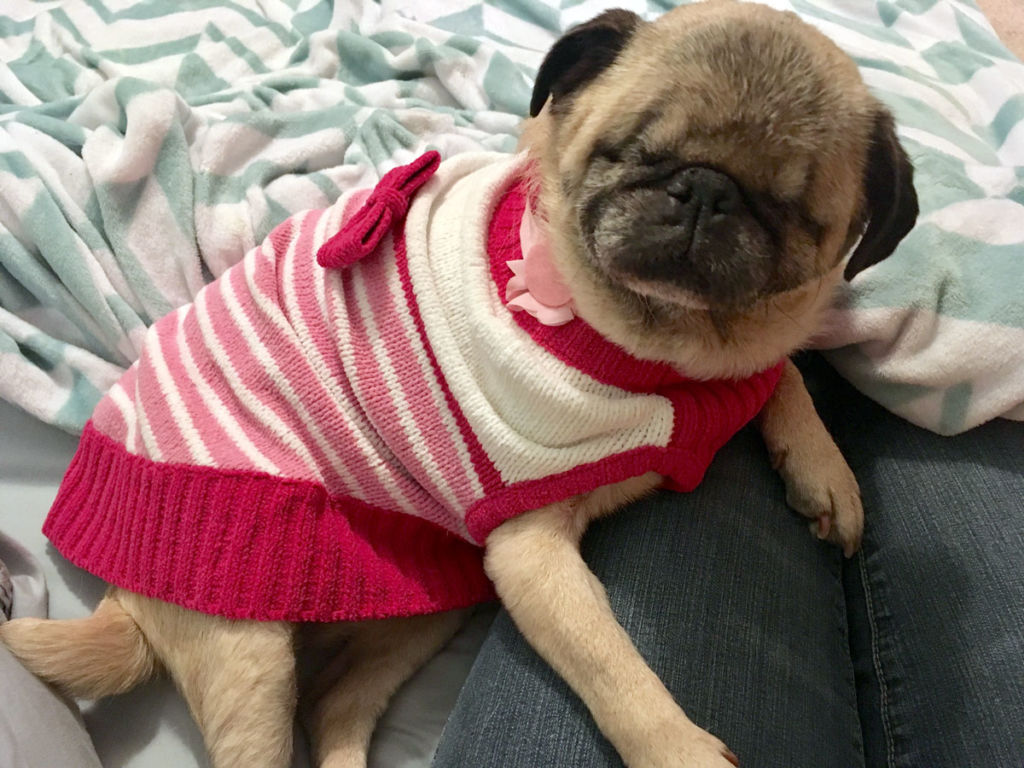 Wilma – Adopted
Name: Wilma
Age: 8
Previous Life: Owner surrender
Sex: F
Weight: 18 lbs.
Altered: Yes
Housebroken: Yes
Good with dogs/cats/kids: Yes/Unknown/Unknown
Likes: Cuddling, lots of cuddling!
Dislikes: None
Crate trained: Yes
Fenced Yard: I have no eyes so I'm completely blind and need a fenced yard!
Special needs: Wilma takes a prescription medicine 2x per day for her Thyroid (Thyro-Tab). It's under control, but her new owner will need to be dedicated to taking her to the vet regularly for checkups and stay on top of monitoring her for any unusual symptoms in case the dosage needs to be changed.
I'm Wilma! I'm a sweet 8 year-old girl who wants nothing more than to be your teddy bear! I'm completely blind – I no longer have eyes – so my favorite way to show my love is to cuddle with you and be held.
Because I can't see, I would do best in a home with gated or closed off stairs so I can't accidentally tumble down them. If I wander off and get lost in the house I'll call to you with little yips so you can come and carry me back to where you are. I'm a real velcro pug, but it's tough for me to follow, especially when I'm learning the layout of the house. But I'll keep trying, and I'll call to you if I can't quite figure out where you are.
As you can imagine, I don't do so well on a leash, so I need a home with a fully fenced in back yard to keep me safe and to allow me to get enough exercise. I know to go potty outside, and I don't have accidents if I'm taken out on a regular schedule a few times per day. I don't really like to be in a kennel, especially if I know people are home, but I tolerate it when my foster parents go to work. At night I love to sleep in my fosters' bed, cuddle in close, and lay my head next to theirs on the pillow.
I get along great with the other pugs in my foster home, and I wag my tail whenever they come over to say hi. Like most blind dogs, I get nervous when anyone gets in my face, so I would do best in a home with only calm, adult dogs.
I take medication twice per day for my thyroid. I don't care for peanut butter (crazy, I know!), but if you put the pill in my regular food, I don't even notice it's there.
Are you looking for a true cuddlebug to be your loving companion? Fill out an application for Wilma today!
Interested in adopting? Wilma's minimum adoption donation is $275.
Can't adopt, but want to make a big difference in the life of this pug? Become a sponsor today!
Fine wines for pug lovers
Raise a toast for pugs in need! We've partnered with Benefit Wines to offer a variety of wines from Chile and California to help us raise money for pug rescue. Shop today for yourself, or for the perfect holiday gift.