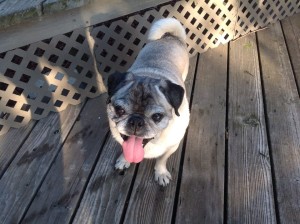 Name: Yoshi
Age: 10 years
Previous Life: Stray
Sex: Male
Weight: Unsure
Altered: Yes
Housebroken: Yes
Good with dogs/cats/kids: Yes
Likes: People
Dislikes: Have not found any
Crate trained: Yes
Yoshi has an update from his foster home! He may be 10 years old, but he's doing great and would love to have a forever family to call his own!
UPDATE FROM FOSTER HOME: Just thought we'd check back in with you and let you know how he's been doing. Yoshi has been doing great getting around the house and has really adjusted to being a pampered pug. After some treatment for his hips and arthritis he really seems to be getting around a lot smoother, he still can't go up and down flights of stairs but he's managing one or two now. He also seems to be regaining a little bit of his vision, it isn't much but he now appears to be able to track objects in front of him. He hasn't shown much interest in toys overall, but he loves chews, bully sticks and duck feet being favorites. He's still pretty much a couch potato in the house but when we take him out for a walk he gets very energized and wants to explore everything. He rides well in the car and absolutely loves going new places and meeting people. His last appointment also showed he was 22 lbs. instead of 24 like we thought.