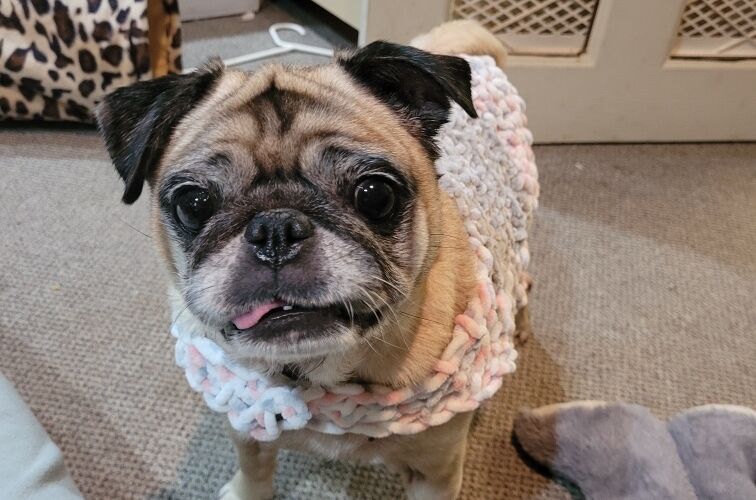 Lulu
PLEASE NOTE: Our adoptable dogs are NOT adopted on a first-come, first-serve basis. We match the right pug with the right family. Please read the bio and details below before emailing to begin the prescreening process. Failure to read all may result in no response or denial. The requirements for each dog are NOT negotiable, so please do not ask.
Name: Lulu
Age: 5-6 yrs old
Sex: Female
Previous Life: Shelter
Weight: 17 lbs
Altered: Yes
Housebroken: Yes with a consistent regular schedule
Good with dogs/cats/kids: Yes, a submissive dog would be best/most likely would leave cats alone/older kids only.
Likes: Loves all treats & food. Sometimes plays with toys. Loves snuggling & following her foster mom everywhere
Dislikes: Sharing food and treats. Will need to be fed separately or in a kennel.
Crate trained: May whine or howl when first going in & being left alone
Fenced yard required: Yes a fenced yard is REQUIRED. Lulu is an escape artist and does not do well on a leash.
Special Needs/Notes: Vision isn't the greatest, especially at night. Can get defensive with other dogs when she can't see well. She will need eye medication, joint supplement, and skin supplements. She'll need regular baths until skin is healed.
Joint supplement, Eye lubricant, Optimmune for pigmentary keratitis, immunity booster supplement, skin supplement, Cranimals, CBD for skin & anxiety.
Lulu is a 5-6 yr old pug looking for her forever home. She came to PPN overweight & with several medical issues. Her medical issues were complex, so this sweet girl is looking for a special adopter to help continue her care as she fully heals. She would love to be the center of your attention.
Lulu has some ongoing medical care that will be important to continue. She requires eye medicine and has a few ongoing skin issues that will take time to heal. She will need regular baths & routine skin checks. She takes a joint supplement daily & would benefit from ongoing chiropractic care due to her gait.
Lulu loves to run out of open doors and can be pretty sneaky about it. An adopter must continually monitor Lulu near doors because she tries to run out as soon as she sees the opportunity. For this reason, she will also require a secure & fenced-in yard.
Lulu is a sweet yet sassy girl. She loves to play games and is a fun girl who loves to snuggle with her person. She does think she is the boss, so she would not do well with another alpha dog.
Interested in adopting? Email our adoption coordinator kristi@pugpartners.com and let her know why you think your home is a perfect match!
Lulu's minimum adoption donation is $325.