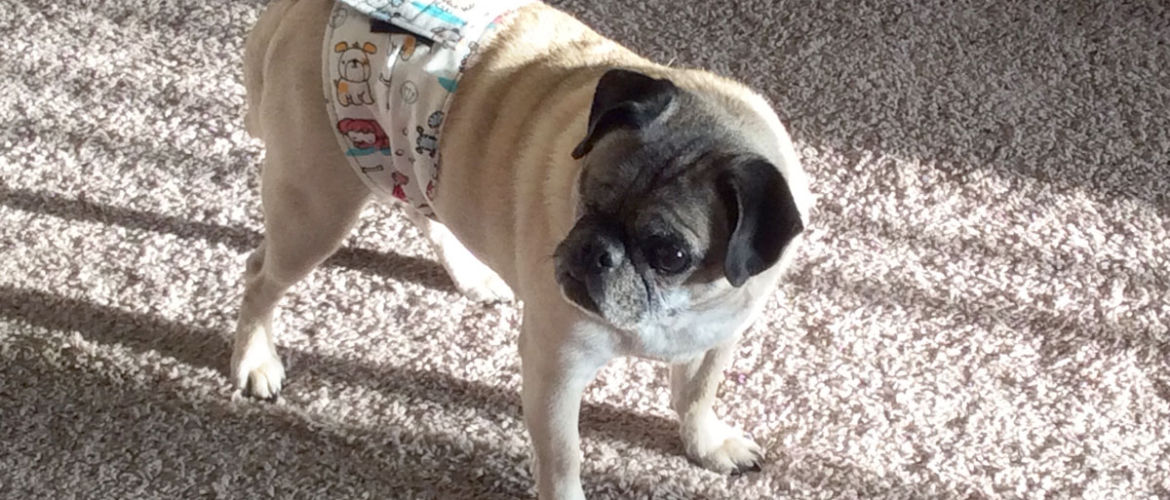 Calling all crafty folks! Pug Partners is in need of belly bands for our male dogs who are being housetrained and for those with incontinence issues.
What is a belly band?
A belly band is a wide cloth belt secured with Velcro around a male pug's waist. Sometimes a Poise or other absorbent pad is placed in the band to trap any urine from soaking through. While indoors, the pug wears the band to prevent any marking on furniture. When outdoors, the band is easily removed by a foster human so the pug can do his business.
How to make a belly band
There are different styles of belly bands and we would be happy to receive donations of any kind. We recommend viewing the instructions on these sites:
Janice Serilla's DIY Belly Band for Fido!
Pug Partners takes in pugs of different sizes, so adjustable Velcro gives us the most flexibility. A band suited for young pugs could allow for a waist of 10-13 inches, while a large band could suit adults with a 20-24 inch waist.
How to donate a belly band
We are extremely grateful for every donation we receive! You can either drop off your donation to one of our volunteers at a Meet & Greet event, or you can mail it to our PO Box:
Pug Partners of Nebraska
PO Box 752
Fort Calhoun, NE 68023
Want to help, but can't sew a stitch?
You can also donate a belly band from our Amazon Wish list. Just pick a belly band off the list to buy, and Amazon will send it straight to us!