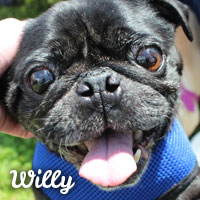 Willard (Willy)
Willy used to live outside all the time, but now he's learning the joys of being a pamped, indoor pet! He loves head-scratches, cuddles, and CAR RIDES! Going for a ride in the backseat is his absolute favorite. Could Willard be the travel companion you've been looking for?
Learn More about Willard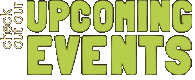 K9 Bark and Walk for Brain Cancer
Saturday, May 21, 2016
11:00am - 2:00pm
Chalco Hills Rec Center
8901 S 154th St.
Omaha, NE 68138

Omaha Gives!
Wednesday, May 25, 2016
All Day
Online

Meet & Greet at Soggy Paws
Sunday June 5, 2016
1:00-3:00pm
Soggy Paws
1401 Jackson St
Omaha, NE 68102

Wine & Howl
Saturday June 11, 2016
11:00am-5:00pm
Deer Springs Winery
16255 Adams St
Lincoln, Nebraska 68527
Heartland Pride Festival
Saturday June 25, 2016
11:00am-5:00pm
Stinson Park in Aksarben Village
2285 S 67th Street
Omaha, Nebraska 68106
Pets in Omaha's Pick-a-Pooch (and kitties, too)
Saturday July 16, Sunday July 17, 2016
11:00am-4:00pm
Ralston Arena
7300 Q St
Omaha, Nebraska 68127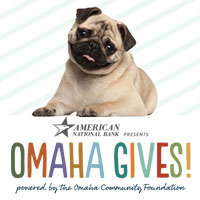 Omaha Gives is May 25th 2016
Help PPN take first prize!

Omaha Gives is a 24 hour giving challenge with lots of opportunity for us to receive bonus money on top of donations. The unique aspect of Omaha Gives is that the bonus money is based less on the amount we raise and more on the amount of people donating as little as $10. This is our first year and we are hoping to come out on top! Why wait until May 25th when you can Donate Now!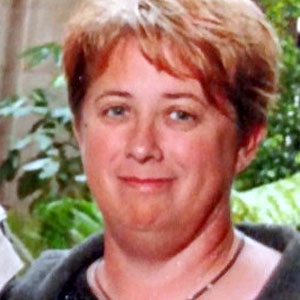 Kristi J.
I'm Kristi Jacobs, President, Board Member and Adoption Coordinator for Pug Partners of Nebraska. My husband Bill and I fell in love with pugs in 1992 with our first pug Bubba. We are currently owned by 4 pugs, Elvis, Abby, Bubby, and Kelly, and I couldn't imagine my life without them. A few years after our first pug, we started searching for a pug to join our family and came across a breeder who turned out to be a horrible puppy mill. Since that time, I have made it my mission to help pugs in need.
I began with Pug Partners in 2009 as a volunteer, then as the Adoption Coordinator in 2011, Treasurer in 2012, and President in 2016. I have been given the privilege to lead Pug Partners in our quest to help as many pugs as possible. I am very proud of this rescue as we continue to grow and find better ways to help pugs in need. To be owned by a pug is a privilege and that is why we are selective in our process of adoption. We simply could not do this without the countless volunteers and hours spent on improving the lives of these pugs. Thank you to all the volunteers who have helped make Pug Partners a wonderful rescue organization!