Name: Guido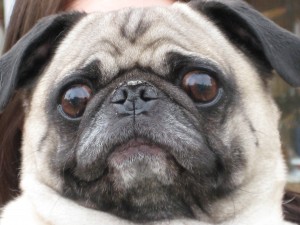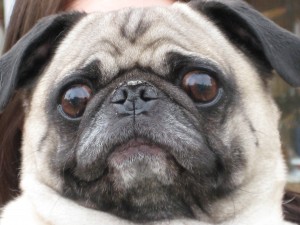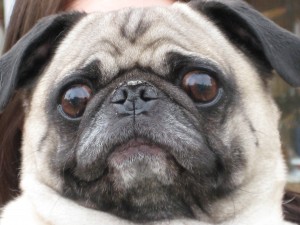 Age: 5 Years
Previous Life: Surrendered by owner
Sex: Male
Weight:
Altered: Yes
Housebroken: Yes
Good with dogs/cats/kids: Yes/?/No
Likes:
Dislikes: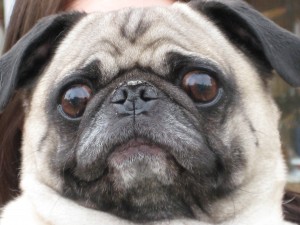 "Hi, my name is Guido. I am 5 years old and came to Pug Partners after my owner went into hospice care. I lived with a single lady who spoiled me, but in my new foster home I am adjusting great. I am potty trained and current on all shots. I have to admit, I'm a little spoiled boy and definitely love cuddling up at night. I sleep in my foster family's bed and not in a crate. I'm really not a fan of that crate thing. I've had alot of change in a short period of time so I am adjusting, but I may be best in a quiet home without alot of commotion. I promise if you take good care of me I will bond and thank you with unconditional love. Will you be my forever home?
**Update form foster home He is becoming very accustomed to cats (our cats are sort of a special breed, though; very used to dogs and not likely to run away). Our pug Tucker keeps trying to play with him, but I don't think Guido knows how to play with dogs. He has not had any accidents and loves sleeping on the bed with us, although he will go to his kennel if you tell him to. He's incredibly handsome and smart and knows how to sit and walk on a leash."
From Guido-Available for Adoption!, posted by PugPartners Nebraska on 10/27/2010 (5 items)
Generated by Facebook Photo Fetcher


Interested in adopting Guido? Click here
Guido's adoption fee is $300.
Our dogs love to sleep on Kuranda Dog beds, but we don't have enough for everyone.
If you would like to donate a bed at a special wholesale price for a another dog to sleep in comfort, please donate a Kuranda dog bed.