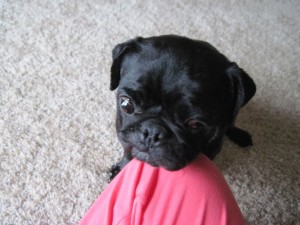 Name: Miley
Age: 5 Years
Previous Life: Surrendered by breeder
Sex: Female
Weight:
Altered: Yes
Housebroken: Unknown
Good with dogs/cats/kids: Unknown
Likes:Unknown
Dislikes:Unknown

"Miley is a female Black pug. She was born 5/19/2006. Miley is basically blind. She will need another pug in the family so she can follow them around and learn the ropes.
Update from foster mom:
Hi everyone! I wanted to give you all an update to let you know how I'm doing. I've been at my foster home for a few days now, and it seems to be an ok place. There are squeaky toys that lay around that I love to find and play with and get so excited when I can make them squeak! I get along good with my foster sister, she's kind of bosy for a pug, but at least she lets me follow her around and play with her toys.
I'm working on this whole potty training thing. My foster mom says I'm doing good, I've only had a couple little accidents. So far, my favorite time of the day is breakfast and dinner, oh and I don't mind when my foster mom sits on the floor and rubs my belly, for some reason that puts me right to sleep!
I better get going, my foster mom said something about grandma coming over, and my foster sister is all excited. I think I need to go check it out. I'll write soon!
"
From Miley – Adopted!, posted by PugPartners Nebraska on 4/22/2011 (8 items)
Generated by Facebook Photo Fetcher


Our dogs love to sleep on Kuranda Dog beds, but we don't have enough for everyone.
If you would like to donate a bed at a special wholesale price for a another dog to sleep in comfort, please donate a Kuranda dog bed.