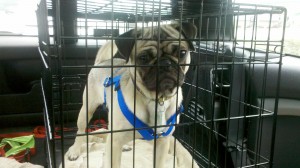 Name: Pugsly
Age:  11 months
Previous Life: Owner Surrender
Sex: Male
Weight:
Altered: Yes
Housebroken:
Good with dogs/cats/kids:
Likes:
Dislikes:
My name is Pugsly and I was adopted even before I made the website!  Yeah!!! 
Update from his Furever home: He goes by the name of Farley now and has adjusted very well to it! He has gotten very comfortable in his new home as he is quite the explorer! He likes ice cubes, his green plush toy (we call it green meanie), and has enjoyed getting to know his "Uncle Frankie", my mom's 9 yr old pug! He is such a sweet little guy and he has so much energy, yet is SO well behaved!
Interested in adopting Pugsly? Click here
Pugsly's adoption fee is $350
Our dogs love to sleep on Kuranda Dog beds, but we don't have enough for everyone.
If you would like to donate a bed at a special wholesale price for a another dog to sleep in comfort, please donate a Kuranda dog bed.